Last August we reported on the relationship between trustworthy public companies in America and company performance. www.trustacrossamerica.com/blog/?p=573
For anyone still hesitating to embrace the business notion that trust is an asset – an asset that can leverage real business gains –look at the ongoing data from Trust Across America (TAA) comparing companies with strong trust profiles to all other companies.
Since we began to track the performance of our "Trust 59" (formerly called the "Gold 59), our model portfolio continues to outperform the S&P 500. The Trust 59 is presently 300 basis points (or 3%) ahead since November 2010 when TAA began to formally share its data. Certainly the 10-year trend is even more enlightening, compared to a very stagnant S&P.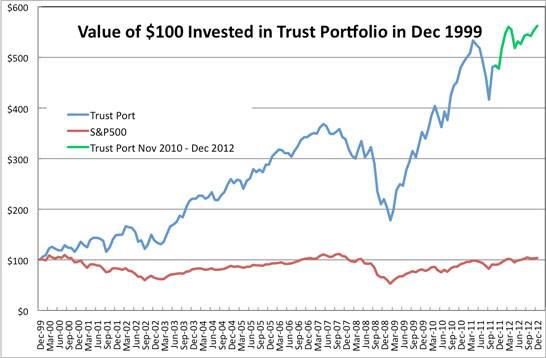 Source: Trust Across America January 2013
The Trust 59 proves that the market values trustworthy behavior, so why does the crisis of distrust continue, and why are companies not running to prove their trustworthiness? It boils down to a system that makes other assets priorities over trust – specifically, antiquated notions of shareholder value and settling for regulatory compliance as the marker of ethical behavior, among other distractions.
The value of a company is derived from the relationships it maintains will all its stakeholders, not just shareholders. When we look at corporate performance we can no longer look at the short-term and we cannot merely look at investors.
Trust leadership requires a more progressive stance on building authentic relationships with stakeholders – a relationship that pays trust dividends.  It also requires a long-term focus. And for those pioneers in valuing trust and investing in trust, the upside is clear –and the short-term takes care of it self.
Barbara Kimmel, Executive Director of Trust Across America (TAA), a US based think tank and communications program (www.trustacrossamerica.com) whose mission is to restore corporate trust. Through it's Alliance formed in late 2012, global experts are joining forces to collaboratively advance the cause of trustworthy business.
 http://trustacrossamerica.com/cgi-bin/alliance.cgi