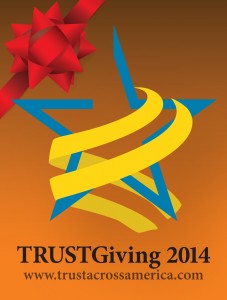 I am grateful when companies "do the right thing." How about you? Isn't it time we began acknowledging them instead of always focusing on the negative?
Here are 2 quick stories that deserve recognition.
The Cookie Caper
Have you ever heard of DiCamillo Bakery in upstate NY? I hadn't until a few weeks ago when I came across their name in a catalog and decided to send a Thanksgiving basket to a relative. Here's a quick company history from their website.
"In 1920, with the help of their eleven children, Tomaso and Addolorata Di Camillo opened their first bakery in Niagara Falls, New York. From basement ovens in this store, the Di Camillo family began baking bread and delivering it to their neighbors in horse-drawn wagons. Today second, third, and fourth generation members of the Di Camillo family continue this uninterrupted tradition of making wholesome hearth-baked bread and classic Italian cookies and confections for our friends and neighbors. Although our menu of breads and biscotti has greatly expanded, and our neighbors can be found all over the world, our standards, our traditions, and the pride in the products that we make remain the same."
A few days later I received a call from the gift recipient, thanking me for the wonderful cookies and macaroons. The problem was, I hadn't sent cookies and macaroons. A quick call to Di Camillo and the problem was solved. They admitted their mistake and shipped the correct order, at no cost. My first hat goes off to Di Camillo who apparently "does things right." By the way, their prices are reasonable and their baked goods are delicious.
Leaky Faucets
I recently called Kohler to inquire about replacing a broken head on my kitchen faucet. The call wait time was very short, an English-speaking customer service rep picked up the phone, some basic information was collected (name, address, etc.) and the matter was resolved in under 5 minutes. The outcome: The part is being replaced at no charge. There was little discussion of warranties. The closest was the question as to when the item was purchased. I told the CSR I had no idea, as I could not remember when we had our kitchen remodeled.
So hat's off to Kohler for standing behind their product and "doing what is right" instead of only "what is legal." And the way they do business is clearly not by accident. Founded in 1873, Kohler is a family-owned business, and a privately held company. You can read their mission statement here. Their employees seem happy and they have won many awards. Herbert Kohler, Jr. is the CEO and the founder's grandson. And I'll bet you didn't know that the company owns several golf courses and an arts center in Wisconsin!
Do you think culture and values are high on the priority list of these two companies? Are you surprised they have been in business for so long? I'm not. It seems they try to "do right" by all their stakeholders. I doubt either company is perfect, but they certainly set high standards.
Thank you Di Camillo's Bakery and Kohler. You are truly role models for trustworthy business.
Let's celebrate the "good guys." Send me your "do the right thing" stories and I'll be happy to feature them in upcoming blog posts. Email barbara@trustacrossamerica.com
Barbara Brooks Kimmel is the Executive Director of Trust Across America-Trust Around the World whose mission is to help organizations build trust. She is also the editor of the award winning TRUST INC. book series and the Executive Editor of TRUST! Magazine. In 2012 Barbara was named "One of 25 Women Changing the World" by Good Business International.
Copyright 2014, Next Decade, Inc.