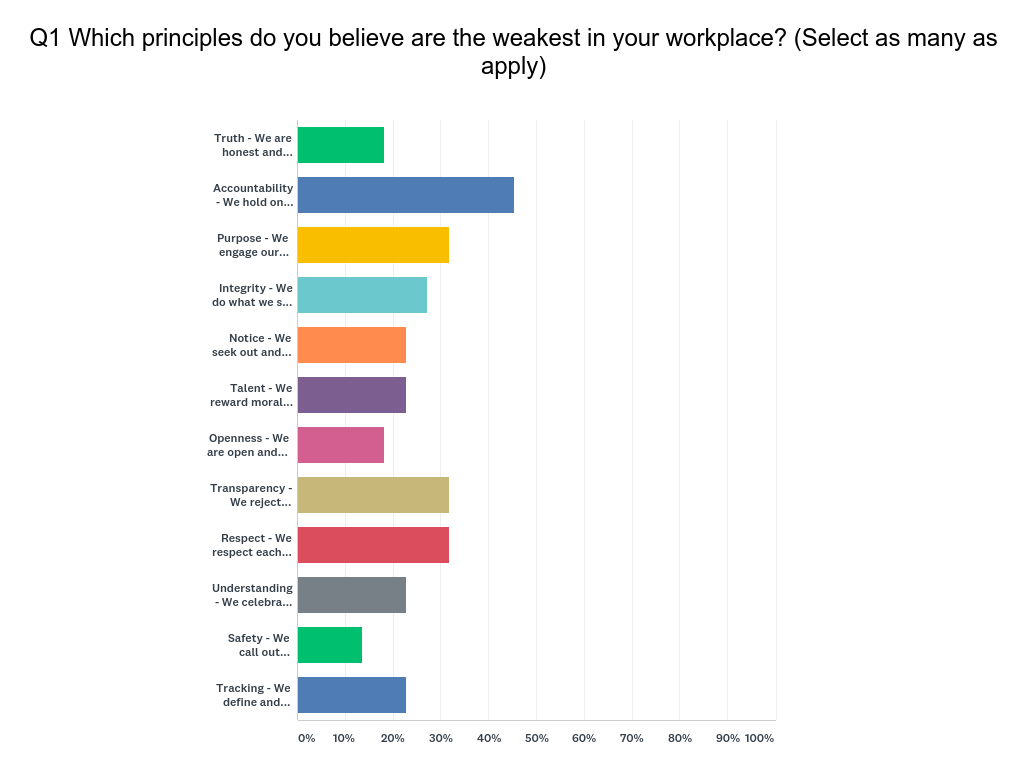 Tracking and addressing the behaviors that build or weaken trust in teams and organizations has the following benefits:
Elevating employee engagement & retention
Reducing workplace stress
Enhancing decision making
Increasing innovation
Improving communication
Reducing costs and increasing profitability
Is progress being made?
The growing interest in our Tap Into Trust campaign has brought almost 180,000 people to our universal principles, available in 16 languages. We are also running the largest global (one minute/one question) anonymous survey on workplace trust, with the goal of determining which of our 12 principles of trust are the WEAKEST in teams and organizations and whether they change over time. The anonymous survey can be taken here and the results of hundreds of respondents viewed upon completion.
Building a trust based team or organization is not one size fits all. It happens in 3 stages. We use AIM as the acronym.
ACKNOWLEDGING that trust (the outcome of principled behavior) is a tangible asset
IDENTIFYING  the behaviors that are weakening and strengthening trust
MENDING the behaviors and tracking them over time
We call this AIM Towards Trust, and the framework is being adopted by enlightened leaders in organizations of all sizes and across industries, providing a path forward to high trust.
Elevating trust in teams and organizations requires specific personal and interpersonal principles and skills.
There is no "one size fits all" or check the box fix.
Barbara Brooks Kimmel is an author, speaker, product developer and global subject matter expert on trust and trustworthiness. Founder of Trust Across America-Trust Around the World she is author of the award-winning Trust Inc., Strategies for Building Your Company's Most Valuable Asset, Trust Inc., 52 Weeks of Activities and Inspirations for Building Workplace Trust and Trust Inc., a Guide for Boards & C-Suites. She majored in International Affairs (Lafayette College), and has an MBA (Baruch- City University of NY). Her expertise on trust has been cited in Harvard Business Review, Investor's Business Daily, Thomson Reuters, BBC Radio, The Conference Board, Global Finance Magazine, Bank Director and Forbes, among others.
For more information contact me
Copyright 2023, Next Decade, inc.