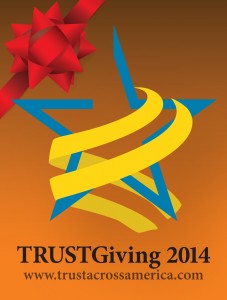 Welcome to TRUSTGiving 2014, our first annual weeklong trust awareness campaign.  Join the Alliance of Trustworthy Business Experts as our members help our readers navigate the complexities of trust. We will be blogging (several times a day) and posting on Twitter #TrustGiving2014.
The headlines speak for themselves…
Trust in business is down
Washington can't be trusted
The NFL has trust issues.
….or do they? 
Have you ever paused to consider that businesses, Washington and the NFL are all run by people?  Institutions are only as trustworthy as those who lead them. In reality, we don't have a crisis of trust. We have too many "low trust" leaders.
Trust is built on three pillars: Character, competence & consistency. If the first of these pillars comes naturally, the second two are easy to construct. How do you measure character? Michael Josephson has built his "Character Counts" program on 6 pillars. Notice the first is trustworthiness.
If you lead an organization and the headlines are continuously working against you, take a few minutes to consider the following:
Do you cheat or deceive others?
Are you reliable? (consistency)
Do you keep your word?
Do you have courage to do the right thing?
Do you have a good reputation? (competence)
Are you loyal?
Do you stand by your family, friends and country?
You may have noticed that competence and consistency are attributes of good character. If organizations were run by people who could answer "Yes" to all these questions, or even took the time to consider them, the headlines would read differently.
Being trustworthy is not rocket science. It's simply a choice. Make it yours.
Barbara Brooks Kimmel is the Executive Director of Trust Across America-Trust Around the World whose mission is to help organizations build trust. She is also the editor of the award winning TRUST INC. book series and the Executive Editor of TRUST! Magazine. In 2012 Barbara was named "One of 25 Women Changing the World" by Good Business International.