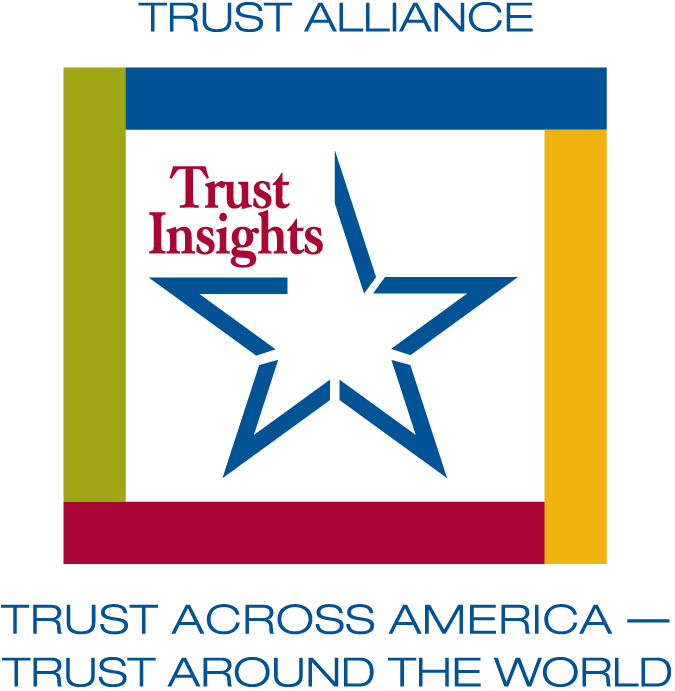 Stephen, thank you for kicking off our 2020 Trust Insights series. What is your trust insight?
Trust is both earned and given—therefore to build trust, it's not enough to be trustworthy; you also have to be trusting. 

Stephen M.R. Covey
Can you expand a bit on this important insight?
We earn trust through our character and competence—our credibility—along with our behavior.  This makes a leader trustworthy.  But consider this:  you could have two trustworthy people working together, and no trust between them . . . if neither person is willing to extend trust to the other. 
While I believe most leaders today recognize the need to be trustworthy, I'm not sure if most recognize the equally vital need to be trusting.  And that's where I think we're got to put special focus in our leadership work by learning to lead out in extending trust (smartly) to others.
And it's the leader's job to go first.  Someone needs to go first; that's what leaders do—leaders go first.  Yes, there's risk in trusting people.  But there's also risk in not trusting people.  And in today's collaborative world, filled with multiple generations and characterized by disruption, not trusting people is quite often the greater risk.
Extending trust to others not only improves performance, it also generates a reciprocity of trust: when we give trust, people receive it and return it.  When we withhold it, they withhold it. 
Indeed, the act of extending trust to others is the defining act of leadership.  It's a game-changer, both for the leader extending the trust and for the person being trusted.  Indeed, to be trusted is the most inspiring form of human motivation. 
That's why the first job of a leader is to inspire trust, and the second job is to extend it.
Can you provide a real life example of a trust "challenge" where your insight has been effectively applied.
I recently presented at the University of Missouri with David Novak, former CEO of Yum! Brands for over 16 years.  David validated the impact of applying this approach of leading out in extending trust to others as he shared with me his experience of when he first took the job as President of KFC and inherited a situation where there was massive distrust, and even hostility, between the corporation and the franchisees.
In his own words, he said:  "My first official act as president was to get together with my executive team and let them know things had to change…. I said, 'I want you to know something.  I love working with franchisees.  And from now on we're going to trust our franchisees."
From this decision to extend trust, new ideas, collaboration and innovation began to emerge from the franchisees and new products resulted from it.  The business experienced a dramatic turnaround in both results and culture. 
Novak continues: "If you ask the finance people what ignited the business, they will tell you it was the new products, but my answer would be that it was the triumph of the human spirit.  It all started with one simple decision: to trust franchisees.  That opened the way for them to trust me and the corporation in return, and together we unleashed the power of our people to succeed."
Stephen, generally, do you think the global "trust" climate is improving or worsening? What actions are making it better or worse?
On balance, given the current state of our society and politics, I believe it's worsening.  And the internet, social media, and 24/7 connectivity immediately highlights untrustworthy behavior and often exacerbates the challenges we face.  The danger of a low-trust world is that it tends to perpetuate itself.  When we see scandals, corruption, self-serving and untrustworthy behavior, we tend to become more careful, guarded and suspicious because none of us want to get burned.  Distrust and suspicion tend to create more distrust and suspicion, and we can find ourselves perpetuating a vicious downward cycle.  Distrust is contagious.
But thankfully, trust is also contagious.  And there are increasing actions by leaders and organizations and movements that are seeking to counteract this decline in trust.  Both because it's the right thing to do, and also because it's the economic thing to do.  In other words, there's a compelling business case for trust. 
And the internet, social media and 24/7 connectivity can also immediately highlight the numerous positive actions being taken by leaders and organizations everywhere to model trust, trustworthiness, transparency, integrity, service and contribution—ranging from ethics initiatives to good governance frameworks to effective leadership development in establishing high-trust cultures within organizations, among countless efforts.
Many claim we have a crisis of trust. Do you agree?
Yes, I do believe with all the changes and challenges going on in our world and in society that there is, in many ways, a crisis of trust.  There's a lot of data that would back that up. 
But I also believe that simultaneously, and paradoxically, there is also a "renaissance of trust" taking place.  A renaissance of trust in the sense of having people, leaders, organizations, and movements that are saying, in effect, "there is a better way to lead, a better way to operate."  And they're modeling the way, and pointing out to others a better way.  I believe Trust Across America-Trust Around the World is one of many such organizations.
So the paradox is that in the midst of the crisis of trust, there's simultaneously a renaissance of trust taking place.
I hope to be a co-catalyst, with countless others, in helping to bring about this renaissance of trust.
Stephen, how has your membership in our Trust Alliance benefitted you professionally?
I like to think that Trust Across America-Trust Around the World is part of the renaissance of trust.  It brings together like minded leaders, practitioners, thought leaders, and organizations to focus their best thinking and energies on how to bring attention to this critical currency of trust—and how to increase trust in our lives, our relationships, our organizations, and our society.
I like being part of and aligned with such an effort that's so vital to my personal and professional mission to help increase trust in the world.
Stephen, thank you so much for your time and more importantly for your commitment to elevating organizational trust. What would you like our audience to know about you?
Stephen M. R. Covey is The New York Times and #1 Wall Street Journal bestselling author of The Speed of Trust, which has been translated into 22 languages and has sold over 2 million copies worldwide.  He is co-author of the #1 Amazon bestseller Smart Trust.
Stephen is the former President & CEO of Covey Leadership Center, which became, at the time, the largest leadership development company in the world.  A Harvard MBA, Stephen co-founded and currently leads FranklinCovey's Trust Practice. 
Stephen has taught trust in 55 countries to leaders and organizations, spanning business, government, education, healthcare, and NGO sectors.
And while you are here, Tap Into Trust and complete our 1 minute/1 question quiz. Find out how the level of trust in your workplace compares to hundreds of others.
Contact us for more information on elevating trust on your team or in your organization.
Copyright 2020, Next Decade, Inc.