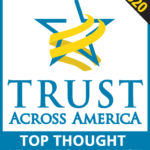 Nominations are now open for Trust Across America-Trust Around the World's 11th annual Top Thought Leaders in Trust.
Announcement of honorees will be made in January 2021 via TRUST! Magazine.
This unique program celebrates global professionals advancing the cause of trust.
How can you get involved?
Send along
 a suggestion of someone worthy of our consideration.
Nominate
 yourself or someone else (or have someone nominate you).
If you use our free resources, now is the time to show your support with a small donation. 
Visit our homepage
 and scroll down on the right.
Advertise in our upcoming annual honors announcement in January. 
Contact me
 for details.
Copyright 2020, Next Decade, Inc.