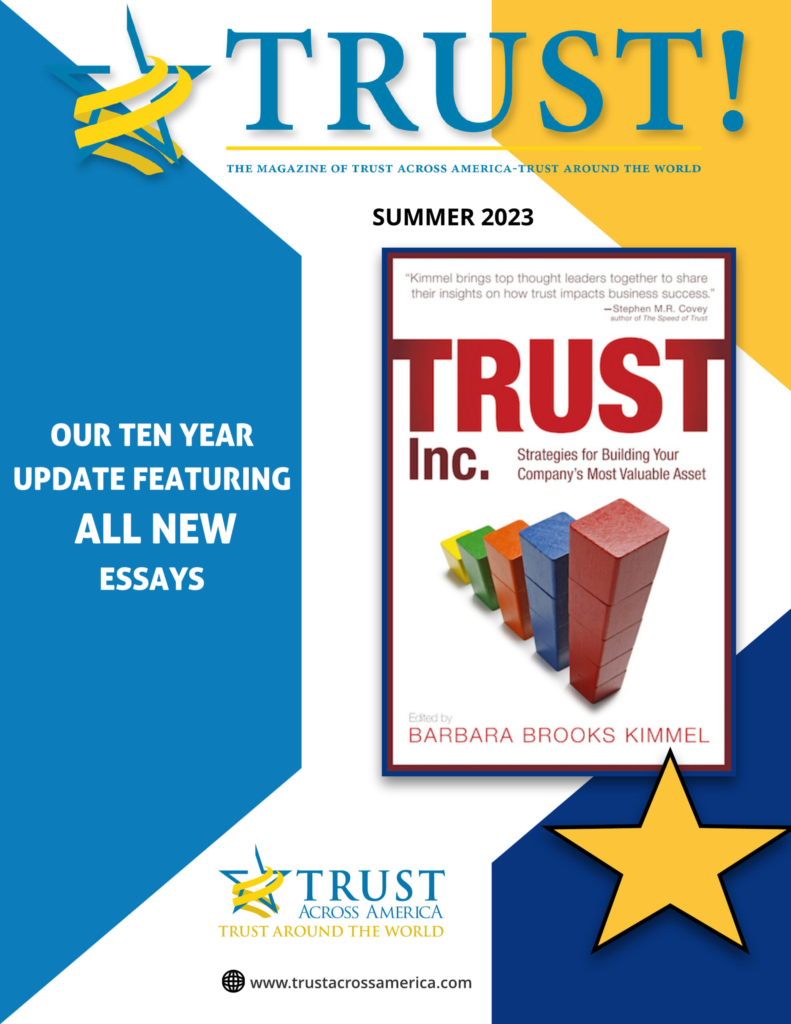 We have all been taught that in turbulent times such as these, firm leadership is required.  We wonder, what personality, strength of character, and expertise can we trust to guide us through the treacherous currents of climate change, demands for equity and justice, gridlock in governance, rapid technological change including artificial intelligence, and economic uncertainty?  Whom can we trust to lead us through this polycrisis?  
Interestingly, the etymology of "trust" is rooted in old Norse and English words meaning "strength" or "to make safe and strong." In times like these, we crave leaders who will keep us safe and make us strong.
Trust Across America has taken a rather different perspective on the meaning of "trust," one not grounded in formal authority, but rather in the quality of relationships within an organization. I and others, guided by Barbara Brooks Kimmel, helped to create Trust Alliance Principles (TAP). These dozen principles represent behaviors, norms and culture within "high trust" organizations, those that Barbara has demonstrated perform better than their lower-trust peers. A simple assessment tool, based on these principles, can quickly score any size organization on trust, and identify strengths and challenges moving forward.
Many of the principles relate directly to the capacity to listen and seek to understand different perspectives in order to work together, for example: Engage our stakeholders in shared purpose. Open to learn. Respect each other. Safe to be honest. Integrity.
These times demand this kind of trust — safety and strength that results from trustworthy behaviors. Through such behaviors, we bridge differences and together address challenges. High-trust organizations welcome unconventional views, listen and seek to understand the perspectives of their stakeholders, and then innovate. This capacity to hear and learn from those different from us is essential if we are to seriously address the polycrisis and its multiple currents.
Those in authority certainly set many of the parameters of trust in their organizations. Their personal ethics may be more important than the organization's code of conduct. And their leadership in welcoming different views and voices may outweigh any stakeholder outreach plan. To succeed, they may disappoint those seeking quick answers and immediate solutions, instead holding the listening and learning long enough to understand views of all involved, and together, address fundamental challenges.
In my head, I still can find the voice crying for those in charge to provide us with safety, along with clear direction and order. Yet the challenges we face today require innovation that top-down authority may foster but cannot command. We need communities and organizations that engage diverse stakeholders, understand their differing interests, learn from their knowledge and experience, and empathize with and address what they fear they may lose in change. Then, we will try new approaches, learn from our experiments, and effect positive change.
The "safe and strong" that we need goes well beyond those at the top.
Our personal, organizational, community, and global thriving will be based upon the trust established among those of us working together to build economic, social, and environmental value.
Barton (Bart) Alexander is Principal of Alexander & Associates LLC. Bart is a lifetime achievement awardee of Trust Across America and serves on the Trust Council. He has worked to effect positive change from senior executive positions within government, Fortune 500 corporations and NGOs. His current focus is supporting the next generation of change makers to mobilize climate action and address related challenges. He is a graduate of Harvard, the London School of Economics and served as a senior executive fellow at the Harvard Kennedy School.