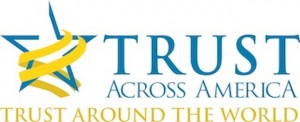 Late last year Trust Across America-Trust Around the World  published the first in a planned series of award-winning books.  TRUST INC., Strategies for Building Your Company's Most Valuable Asset brings together the wisdom of 32 experts. Six months later we released our second book, Trust Inc. A Guide for Boards & C-Suites. In this book, sixty experts have joined forces to offer 100 strategies.
Throughout the month of August, we will be featuring 31 essays from our second book. Each stands alone as an excellent resource in guiding Boards and C-Suites on driving a trust agenda at the highest level in the organization, and provides tools for those who choose to implement trust-building programs in their organization.
This ninth essay in our series brings advice from Professor David Grayson CBE, Director the Doughty Centre for Corporate Responsibility, Cranfield School of Management, UK. Professor Grayson was named a 2014 Top Thought Leader in Trustworthy Business.
Towards a Board Mindset for Corporate Sustainability
To restore trust, boards must discharge their responsibility for the company's Social, Environmental and Economic Impacts (Corporate Responsibility). For many companies and boards, however, there is still a critical mind-set shift that has to occur. Specifically, the shift from the idea of boards as mentors or monitors, stewards or auditors, to mentors and monitors, stewards and auditors. And a second shift from the idea of corporate responsibility as being about risk mitigation to the recognition that to be truly embedded, it has to become both risk mitigation and opportunity maximization: not minimizing negative Social, Environmental and Economic Impacts, but also maximizing the positive impacts.
The board sustainability mindset, therefore, can be defined as:
A collectively held view that long-term value-creation requires the company to embrace the risks and opportunities of sustainable development; and that the board are simultaneously mentors and monitors, stewards and auditors of the management in their commitment to corporate responsibility and sustainability.
Corporate responsibility and sustainability leadership and stewardship currently tends to come from the chairman or CEO or another board member, rather than yet being a collective mind-set of the board as a whole. Boards need to assess whether they have a Sustainability Mindset and, if not, identify how to create one perhaps through board away-days, scenarios presentations, creating a board sustainability advisory panel, and board recruitment, training and Continuous Professional Development, and appraisals. (Taken from Towards a Board Mindset for Corporate Sustainability, Jan 2013.)
 I hope you have enjoyed this next sneak peak into our second book. If this brief look behind the door has been helpful, follow this link to order both of our books online.
Barbara Brooks Kimmel is the Executive Director of Trust Across America-Trust Around the World whose mission is to help organizations build trust. She is also the editor of the award winning TRUST INC. book series. In 2012 Barbara was named "One of 25 Women Changing the World" by Good Business International.
Should you wish to communicate directly with Barbara, drop her a note at Barbara@trustacrossamerica.com
Copyright © 2014, Next Decade, Inc.