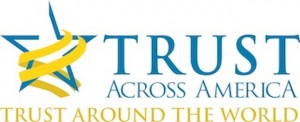 Late last year Trust Across America-Trust Around the World  published the first in a planned series of award-winning books.  TRUST INC., Strategies for Building Your Company's Most Valuable Asset brings together the wisdom of 32 experts. Six months later we released our second book, Trust Inc. A Guide for Boards & C-Suites. In this book, sixty experts have joined forces to offer 100 strategies.
Throughout the month of August, we will be featuring 31 essays from our second book. Each stands alone as an excellent resource in guiding Boards and C-Suites on driving a trust agenda at the highest level in the organization, and provides tools for those who choose to implement trust-building programs in their organization.
This eighth essay in our series brings pearls of wisdom from  Davis Young, a public relations counselor and author of Trust is the Tiebreaker.  In collaboration with client Revco Drug Stores, he received the best of Silver Anvil Award from the Public Relations Society of America for the single finest program of the year nationally.
Headline: Be the Leader Others Will Follow
Leaders of organizations are role models – either good or bad.
If they cut corners, their people will cut corners.
If they wink at bad practices, their managers will wink, too.
If they verbally abuse colleagues, others will follow their lead.
If they focus only on today and ignore tomorrow, associates will do the same.
If they think public relations is some sort of game to "spin" information, they will encourage others to be less than truthful.
If they do any or all of these things, they will detract from respect and therefore their ability to lead.
Make sure your personal brand stands for something. To do that, ask yourself these questions. Here's a short list to start.
Do I always make decisions based on what's best for the company?
Am I consistent and even-handed?
Am I clear and direct in interactions with associates?
Am I fair-minded?
Do I hold myself to the same high standards I set for others?
Do I listen well?
Would I rather be liked or respected?
Am I a good role model?        
Personal brand building starts with the right answers to those questions. If you really want to lead, take those questions seriously.When leaders pay attention to their personal brands, organizations have a much better chance to flourish. Trust in leadership builds when actions are consistent with words.
Barbara Brooks Kimmel is the Executive Director of Trust Across America-Trust Around the World whose mission is to help organizations build trust. She is also the editor of the award winning TRUST INC. book series. In 2012 Barbara was named "One of 25 Women Changing the World" by Good Business International.
Should you wish to communicate directly with Barbara, drop her a note at Barbara@trustacrossamerica.com
Copyright © 2014, Next Decade, Inc.