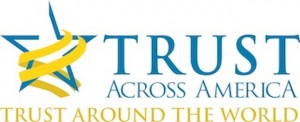 Late last year Trust Across America-Trust Around the World  published the first in a planned series of award-winning books.  TRUST INC., Strategies for Building Your Company's Most Valuable Asset brings together the wisdom of 32 experts. Six months later we released our second book, Trust Inc. A Guide for Boards & C-Suites. In this book, sixty experts have joined forces to offer 100 strategies.
Throughout the month of August, we will be featuring 31 essays from our second book. Each stands alone as an excellent resource in guiding Boards and C-Suites on driving a trust agenda at the highest level in the organization, and provides tools for those who choose to implement trust-building programs in their organization.
This fourteenth essay in our series brings advice from  Dr. Roger C. Mayer, a Professor in the Department of Management, Innovation and Entrepreneurship in the Poole College of Management at North Carolina State University.  His research is focused on employee decision-making, attitudes and effectiveness. A leading scholar on trust in organizations, his research has been published in many premiere scholarly journals and has been cited thousands of times in the published literature across a wide variety of fields. Dr. Mayer is also a 2014 Top Thought Leader in Trustworthy Business.
Building Trust for Boards and C-Suites
There is very little published scientific evidence showing trust in a company actually being improved. In 1999, Roger C. Mayer & James H. Davis published a longitudinal field study in Journal of Applied Psychology showing that trust in top management was indeed increased. Data was collected by university researchers that established a baseline for trust, and identified reasons that employees may lack trust in the company's management. In the studied company's case, a new performance appraisal system was warranted. The company implemented a new appraisal system that met the demands of the situation, and employees who experienced the new system firsthand increased in their levels of trust in management.
Many university trust researchers around the globe have the expertise to collect trust data, provide feedback about how to increase trust, and scientifically track the success of the attempt. Without such tracking, it is easy for managers to claim improvement in the workplace without accountability. Involving university researchers in the process has major advantages. They can (and must) guarantee employees confidentiality, which makes it safe for employees to be completely candid. This allows for tracking each individual's responses from one survey to the next, which is far more powerful at detecting real changes in trust levels than is the use of anonymous surveys. University researchers are interested in scientific discovery, most are willing to engage companies for minimal costs provided they can publish their findings—also in a way that protects the identities of the employees and the companies themselves.
I hope you have enjoyed this next sneak peak into our second book. If this brief look behind the door has been helpful, follow this link to order both of our books online.
Barbara Brooks Kimmel is the Executive Director of Trust Across America-Trust Around the World whose mission is to help organizations build trust. She is also the editor of the award winning TRUST INC. book series. In 2012 Barbara was named "One of 25 Women Changing the World" by Good Business International.
Should you wish to communicate directly with Barbara, drop her a note at Barbara@trustacrossamerica.com
Copyright © 2014, Next Decade, Inc.