From  November 17-24, concerned citizens from around the globe will be joining Trust Across America-Trust Around the World in its first annual TRUSTGiving social awareness campaign. If you strongly believe that trust is an important component of all personal and professional relationships, we invite you to join us by using this emblem, placing the dates on your calendar and sharing this note with others.
More information is available on our website at this link.
We will be using this hashtag during the week.
#TrustGiving2014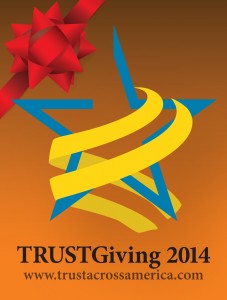 Barbara Brooks Kimmel is the Executive Director of Trust Across America-Trust Around the World whose mission is to help organizations build trust. She is also the editor of the award winning TRUST INC. book series and the Executive Editor of TRUST! Magazine. In 2012 Barbara was named "One of 25 Women Changing the World" by Good Business International.
Nominations are now being accepted for Trust Across America-Trust Around the World's 5th annual Global Top Thought Leaders in Trustworthy Business.
Should you wish to communicate directly with Barbara, drop her a note at Barbara@trustacrossamerica.com Copyright © 2014, Next Decade, Inc.