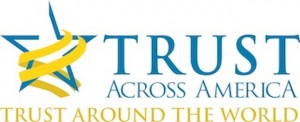 Why should companies build trust into their DNA as well as their daily business agenda?
THIS IS WHY!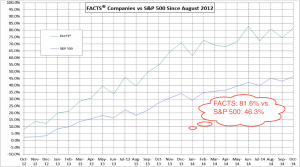 Trust Across America-Trust Around the World, via its FACTS® Framework has developed and refined a unique model that has been tracking the performance of the most trustworthy public companies since 2010. Every six months we update our results and share them publicly. The model continues to support the "bottom line" business case for trust.  We began producing the chart above in August 2012. Since then, the most trustworthy companies have registered an 81.6% return vs. the S&P's 46.3%.
And still the daily headlines explode with countless  stories about bad corporate behavior and the ongoing distrust of business. The word "trust" is rarely uttered by senior managers until they attempt to minimize the fallout from the latest corporate crisis. And what is usually the root cause of the crisis? Low trust, and the failure of senior leadership to place trust on its agenda. If it sounds like a vicious cycle it is, and certainly no way to reverse decades of declining trust in business.
Combine the chart above with the following data and The Case for Trust  becomes increasingly difficult to ignore.
The Hard Costs of Low Trust
Gallup's research (2011) places 71% percent of U.S. workers as either not engaged or actively disengaged.

The disengaged workforce (Gallup, August, 2013) is costing the US economy $450-550 billion a year, which is over 15% of payroll costs.

The Washington Post reported that "the federal government imposed an estimated $216 billion in regulatory costs on the economy (in 2012), nearly double its previous record."
The cost of the tort litigation system alone in the United States is over $250 billion. – or 2% of GDP (Forbes, January 2012)
The six biggest U.S. banks, led by JP Morgan Chase & Co. and Bank of America Corp. have piled up $103 billion in legal costs since the financial crisis (Bloomberg, August 2013)
According to The Economist Intelligence Unit (2010), 84% of senior leaders say disengaged employees are considered one of the biggest threats facing their business. However, only 12% of them reported doing anything about this problem.
According to Edelman globally, 50% of consumers trust businesses, but just 18% trust business leadership.
The United States, the statistics are similar, but the story is a bit worse for leadership. While 50% of U.S. consumers trust businesses, just 15% trust business leadership.
And finally this:  according to a recent report published in the New York Times, the daily cost to house, feed and guard a single prison inmate in New York City is $459.54. In the sharpest of contrasts to the cement-block walls of a cold jail cell, the Ritz Carlton Hotel is the paragon of luxury. World-class service, beautiful design, 600 thread-count sheets. And yet, the average cost for a night at the Ritz — $323, according to its public filings — is 30% less than the cost of a night in city jail. (Josh Linkner, Detroit Free Press, November 9, 2014)
The trust gap not only impacts a company's revenue, market share, brand reputation, employee engagement and turnover, stock price, and bottom line profitability, but every facet of society.
The Low Cost of Hard Trust
Building a trustworthy business will improve a company's long-term profitability and organizational sustainability.
A growing body of evidence shows increasing correlation between trustworthiness and superior financial performance. Over the past decade, a series of qualitative and quantitative studies have built a strong case for senior business leaders to place building trust among stakeholders high on their priority list. While none of these studies are perfect, over the next decade their results will be increasingly difficult to ignore.
This is brand-new research from Interaction Associates 
The study demonstrates that companies which enjoy high levels of trust among their employees are two and a half times more likely than those that don't to enjoy superior revenue growth. High-trust businesses significantly outperform all other organizations in achieving a wide variety of business goals, including customer loyalty and retention; competitive market position; values-driven behavior and actions; predictable business and financial results; and profit growth.
and more from the Chartered Management Institute  follow this link.
As we look more closely at the morality of managers through the lens of MoralDNA, we see that being good and doing things right is mostly about our empathy, our reason and our values. It is much less about the achievement of narrow financial targets; or our robotic compliance with rules and regulations. And yet governments, businesses, public services and charities still persist in a focus on quantitative targets and bureaucratic red-tape that drive dysfunctional and unethical workplace cultures. This has to change.
In a Harvard Business School working paper from July 2013 called The Impact of Corporate Sustainability on Organizational Processes and Performance, Robert G. Eccles, Ioannis Ioannou, and George Serafeim provide evidence that High Sustainability companies (those integrating both environmental and social issues) significantly outperform their counterparts over the long-term, both in terms of stock market as well as accounting performance.
According to Fortune's  "100 Best Companies to Work For", based on Great Place to Work Employee Surveys, best companies experience as much as 50% less turnover and Great Workplaces perform more than 2X better than the general market (Source: Russell Investment Group)
Forbes and GMI Ratings have produced the "Most Trustworthy Companies" list for the past six years. They examine over 8,000 firms traded on U.S. stock exchanges using forensic accounting measures, a more limited definition of trustworthy companies than Trust Across America's FACTS Framework but still somewhat revealing. The conclusions they draw are:
"… the cost of capital of the most trustworthy companies is lower …"
"… outperform their peers over the long run …"
"… their risk of negative events is minimized …"
 In addition to the chart above, numerous indirect indicators of trust also show a direct correlation to superior financial performance.
From Deutsche Bank:
100% concurrence on Lower Cost of Capital ("… academic studies agree that companies with high ratings for CSR (corporate social responsibility) and ESG (environment, social responsibility, governance) factors have a lower cost of capital in terms of debt (loans and bonds) and equity.")
89% concurrence on Superior Market Performance (",,,studies indicate companies with high ratings for ESG factors outperform market-based indices")
85% concurrence on Greater Performance on Accounting –Based Standards ("… studies reveal these types of company's consistently outperform their rivals on accounting-based criteria.")
From Global Alliance for Banking on Values, (see more on the GABV in our new magazine TRUST!,) which compared values-based and sustainable banks to their big-bank rivals and found:
7% higher Return on Equity for values-based banks (7.1% ROE compared to 6.6% for big banks).
 51% higher Return On Assets for sustainable banks (.50% average ROA for sustainable banks compared to big bank earning 0.33%)
These studies are bolstered by analyses from other respected sources including the American Association of Individual Investors, the Dutch University of Maastricht, Erasmus University, and Harvard Business Review.
Business leaders may choose to continue to challenge the business case for trust but the evidence is mounting. There is not only a business case but also a financial case for trust.  Trust works not only in business, but in all organizations regardless of their industry, size or location. Is it working for yours?
Barbara Brooks Kimmel is the Executive Director of Trust Across America-Trust Around the World whose mission is to help organizations build trust. She is also the editor of the award winning TRUST INC. book series and the Executive Editor of TRUST! Magazine. In 2012 Barbara was named "One of 25 Women Changing the World" by Good Business International.
Nominations are now being accepted for Trust Across America-Trust Around the World's 5th annual Global Top Thought Leaders in Trustworthy Business.
                                                                                                 Coming Soon!
Should you wish to communicate directly with Barbara, drop her a note at Barbara@trustacrossamerica.com
Copyright © 2014, Next Decade, Inc.