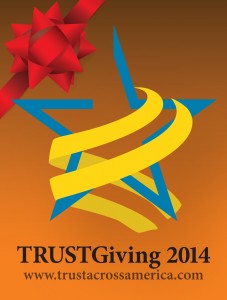 Welcome to TRUSTGiving 2014, our first annual weeklong trust awareness campaign. From November 17-23, Trust Across America-Trust Around the World will be delivering a series of guest blog posts to inspire and motivate you to raise the level of trust in your personal and professional relationships.
Who remembers a time when:
Families, often extended, ate dinner together every night
Doctors made house calls
Business deals were done on a handshake
Politicians kept their word
Athletes exercised their way to peak performance
The media reported the facts
These were just a few of the foundational elements of societal trust. Many seem like a distant memory, but given the right tools, we can return to a higher trust environment.
Join the Alliance of Trustworthy Business Experts this week as our members assist our readers in navigating the complex trust maze. Over the next seven days we will be blogging (several times a day) and posting on Twitter #TrustGiving2014.
Come join the celebration and share your newfound knowledge with others.
Let us not look back in anger, nor forward in fear, but around in awareness. James Thurber
Barbara Brooks Kimmel is the Executive Director of Trust Across America-Trust Around the World whose mission is to help organizations build trust. She is also the editor of the award winning TRUST INC. book series and the Executive Editor of TRUST! Magazine. In 2012 Barbara was named "One of 25 Women Changing the World" by Good Business International.
Copyright 2014 Next Decade, Inc.