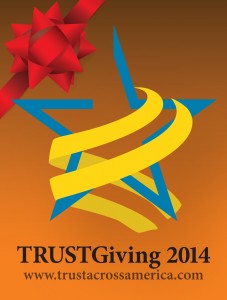 Welcome to TRUSTGiving 2014, our first annual weeklong trust awareness campaign.  Join the Alliance of Trustworthy Business Experts this week as our members help our readers navigate the complexities of trust. Over the next seven days we will be blogging (several times a day) and posting on Twitter #TrustGiving2014.
Holly Latty-Mann shares some thoughts below. Check back at the end of the week for the second segment of Holly's Trust and Company Meetings Part 2.
Part I: Trust-Building Activities to Incorporate in Company Meetings
(an excerpt from our upcoming book, Trust Inc., 52 Weeks of Activities & Inspirations for Building Workplace Trust)
Weekly meetings, whether management or departmental, offer prime opportunities to create and build both trust and cohesion between and among all team members. By applying what cognitive psychologists refer to as the primary and recency effects, people tend to remember the first and final activities of meetings. As such, it is important to begin and end team meetings in a way that promotes a trust with far-reaching ripple effects.
Although not necessary, ideally the one who sets the agenda for weekly meetings is the one with the greatest opportunity to introduce activities designed to create a team culture of trust. The following represents a tried-and-true approach by the author of this blog.    
Create a Brief Checking-In Activity to Start the Meeting: 
►Announce you'd like to start your meeting with a quick, casual "checking-in round," in which everyone has a chance to share anything of interest going on in his or her life – or pass.
►Rather than offer examples, consider going first in order to provide a model of appropriate self-disclosing. Examples can include family vacation or the angst one feels with one's teenage child getting a permit to drive, or discovering rock climbing as a favorite pastime.
►Occasionally bring in a prop or picture as an adult version of show-and-tell, something designed to promote some levity or a relaxed demeanor.
►Although it is important to keep it brief, it's also important not to be rigid regarding timing. 
►Allow body language cues to help with moderating, pacing, and timing.  
Experiencing one another in other life roles helps everyone become as much people-focused as task-focused when later working together on a team project. It is a genuine manifestation of trust when one's focus shifts from who is right or wrong to what's working or not working, the latter of which is more likely to happen when people regard one another as "Pat the person" and not just "Pat the professional".
My next blog will feature an even shorter activity to end the meeting, one that likewise is designed to build trust and team cohesion.
Holly Latty-Mann, PhD, president and owner of The Leadership Trust®, uses her two doctorates in psychology to heighten and crystallize self-awareness and emotional intelligence at root-cause level. Her holistic, integrative models extend to team and organizational development processes to engender trust-based collaborative efforts, thereby expediting both the creation and delivery of her clients' innovative products and services. To contact Holly and learn more, visit www.leadershiptrust.org or write info@leadershiptrust.org.
Barbara Brooks Kimmel is the Executive Director of Trust Across America-Trust Around the World whose mission is to help organizations build trust. She is also the editor of the award winning TRUST INC. book series and the Executive Editor of TRUST! Magazine. In 2012 Barbara was named "One of 25 Women Changing the World" by Good Business International.
Copyright 2014 Next Decade, Inc.