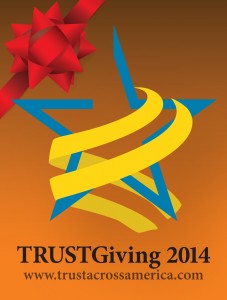 Welcome to TRUSTGiving 2014, our first annual weeklong trust awareness campaign.  Join the Alliance of Trustworthy Business Experts as we help our readers navigate the complexities of trust. During the week we will be blogging (several times a day) and posting on Twitter #TrustGiving2014.
Bob Vanourek is a former CEO of 5 firms. What happened when he got fired?
When I was in my late-20's, I was CEO of a small company owned by a venture-capital firm in California that had hired me. We had a great run over a few years, taking the firm from $1 million in revenue to almost $4 million, and I was hoping we might "go public."
Then I was told by the venture capitalists that they had sold the firm to a larger company. I was shocked. After the sale, I had a chip on my shoulder, which showed in my behavior at the new firm. I was a pain-in-the butt.
One day the Group VP to whom I reported arrived in town and fired me. What an embarrassment in the small town where we lived. No outplacement services in those days. I was just out. 
One of my direct reports was named CEO, and I learned my officers had all been interviewed for my job before I was canned. How untrustworthy they had been.
Then I heard a radio jingle:
"Love many; trust few; and always paddle your own canoe."
"That's me," I said. People betrayed me, so, I'll trust few.
I operated that way for a while but soon realized, when I showed I didn't trust people, then they didn't trust me. As my friends, Jim Kouzes and Barry Posner say, leaders go first.
To lead, I had to regain a positive attitude and extend trust first. 
Bob Vanourek is the former CEO of five firms from a start-up to a billion dollar NY stock exchange turnaround. He is an organizational consultant and is one of Trust Across America's Top 100 Thought Leaders in Trustworthy Business Behavior. He is the co-author of the award-winning book Triple Crown Leadership: Building Excellent, Ethical, and Enduring Organizations. www.triplecrownleadership.com
Barbara Brooks Kimmel is the Executive Director of Trust Across America-Trust Around the World whose mission is to help organizations build trust. She is also the editor of the award winning TRUST INC. book series and the Executive Editor of TRUST! Magazine. In 2012 Barbara was named "One of 25 Women Changing the World" by Good Business International.
Copyright 2014 Next Decade, Inc.