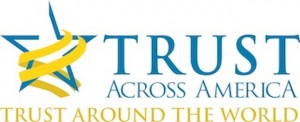 Not everything that's legal is ethical, and not everything that's ethical is trustworthy. Or is it? Well, it's often subjective and the answer just might depend on who you ask.
Every January upon naming our Top Thought Leaders in Trust, unrelated third party companies troll our website seeking to grab our latest list and sell plaques and other "awards" to our honorees. These unscrupulous companies even prepare samples that include the name of our organization, giving the illusion that we have authorized these transactions. Sadly, their business practices are not considered illegal. My guess is these companies have a team of lawyers who keep their employer just to the "right" of what's legal, and therefore also consider their actions ethical, merely because they are not violating any laws.
And every year, I must send out an apology note to our honorees explaining that I have no affiliation with these companies and have not authorized them to solicit our thought leaders.
This year, we even went so far as to require registration to receive a free issue of TRUST! Magazine containing the complete list, in an effort to protect our honorees against the intrusion of these unethical trolls. A few days later, there they were, registering to obtain the list.
A trustworthy business approach might be for the same companies to contact us and engage in an "above board" and transparent business relationship. I'm sure more plaques could be sold if they gained the endorsement of the award sponsor.
This is a great example of the difference between legality, ethics and trust. Sometimes what's legal is not ethical. And what's not ethical can certainly never fall within the category of trustworthy. And that's why ethics is only a component of trust, a much more difficult goal to attain, and where most organizations fall short. The three terms are not interchangeable. But don't try to explain this to lawyers or compliance professionals. After all, trust is nothing more than a "soft" feel good word, and certainly not a business strategy. Or is it? You decide.
Barbara Brooks Kimmel is the Executive Director of Trust Across America-Trust Around the World whose mission is to help organizations build trust. She runs the world's largest membership program for those interested in learning more, and is also the editor of the award winning TRUST INC. book series and the Executive Editor of TRUST! Magazine. In 2012 Barbara was named "One of 25 Women Changing the World" by Good Business International.
Our 2015 Poster, 52 Weeks of Activities to Increase Organizational Trust is available to those who would like to support our work by making a small donation.
Copyright 2015, Next Decade, Inc.