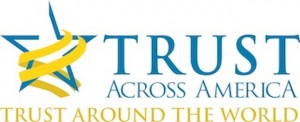 Organizational Trust this Week is a new feature beginning with the "Good", moving through the "Debatable" and occasionally ending with the "Ugly." Each story contains a trust component and at least one lesson for organizations seeking to make trust a business imperative. Trust news this week was "light" so we decided to reproduce a three article series published earlier about trust and CEOs, and reverse the order, beginning with the "Ugly."
THE UGLY

THE DEBATABLE
Trust, Governance & Howard Schultz
THE GOOD
Build Trust Into Your Portfolio
By the way, did you know we released a new book last week in our award-winning TRUST Inc. book series?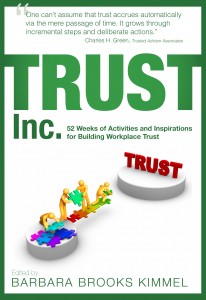 GIVE A GIFT OF TRUST THIS HOLIDAY!
We are taking a break and will be back after the holidays with more Organizational Trust this Week. Our best wishes for a festive end to 2014.
Barbara Brooks Kimmel is the Executive Director of Trust Across America-Trust Around the World whose mission is to help organizations build trust. She is also the editor of the award winning TRUST INC. book series and the Executive Editor of TRUST! Magazine. In 2012 Barbara was named "One of 25 Women Changing the World" by Good Business International.
Should you wish to communicate directly with Barbara, drop her a note at Barbara@trustacrossamerica.com
Copyright 2014 Next Decade, Inc.