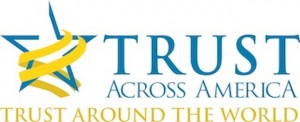 Sometimes my friend "Karma" plays the most interesting tricks on me, as she has done this week with this classic corporate "trust tug of war."
On Monday I wrote a blog post called CEOs "Suck" at Trust.
Soon after, my friend Corey Dubrowa at Starbucks reminded me that not all CEOs are created equal, and shared this recent video of Howard Schultz describing the future of corporations and their trust imperative.
I remain a big supporter of Howard because of his focus on trust. His name has been included among our Top Thought Leaders for several years, and I wrote about him back in 2011 in a CNBC blog called "We Need More People Like Howard Schultz"
And then this morning, Karma came knockin' with an article in my inbox called Corporate Governance Issues for 2015 written by another acquaintance Holly Gregory. It begins with this sentence: "Governance of public corporations continues to move in a more shareholder-centric direction." Holly describes the push, pull and pressures companies face in meeting the short-term demands of shareholders and long-term value creation.  At the end of Holly's article she touches on the role of the corporation in rebuilding trust, from a somewhat philosophical perspective.
So which one will it be in 2015? Do we slog through another year of misdirected Boards and CEOs focusing on the short-term needs of shareholders, or will more follow the example being set by Howard Schultz?
I'm hanging my hat with Howard. As has been proven, again and again, the best companies are those with a long-term stakeholder value perspective. They are not sacrificing profitability for trust, in fact, quite the opposite. The business case for trust has been made. Enlightened companies have Boards and CEOs who get that. The rest allow themselves to remain caught in that ever present net of short-termism.
I want to do my part to help reverse this seemingly never-ending cycle of mistrust in business. I will repeat the offer I made on Monday. For the remainder of the month of December, any public company CEO or Board Member who emails me at barbara@trustacrossamerica.com with their name, title and US company address will be sent our complete three-book award-winning TRUST Inc. series at no cost, with no strings.
PS- I am a proud long-term Starbucks shareholder! Keep up the good work Howard.
Barbara Brooks Kimmel is the Executive Director of Trust Across America-Trust Around the World whose mission is to help organizations build trust. She is also the editor of the award winning TRUST INC. book series and the Executive Editor of TRUST! Magazine. In 2012 Barbara was named "One of 25 Women Changing the World" by Good Business International.
Copyright 2014 Next Decade, Inc.