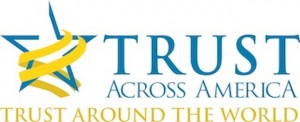 It's Week #6 of 2016. This is our latest article in a series of  ideas to elevate trust in your organization, drawn from our 3rd annual 2016 Trust Poster….now hanging in offices of hundreds of organizations around the world who have placed trust on their business agenda.
52 Ideas That You Can Implement to Build Trust
Professor Roger Steare, also known as The Corporate Philosopher, a Trust Alliance Member from the UK, and one of our 2016 Top Thought Leaders in Trust, offers this:
Leaders can create a culture of trust by helping people feel valued, respected and heard in every meeting, huddle or call.
After working with leaders in many organizations across the world for 15 years, it has become clear to me that large-scale, "boil the ocean", change programs fail because we do not experience leadership, culture and trust at large scale, we experience it locally in the here and now. Who your local manager is, their character, their values and their behavior are more likely to inspire you or de-motivate you than any messaging you get from the center. So as a leader, we lead locally with our teams. Focus on creating a safe, open climate for debate and constructive dissent. To create trust in your organization, treat your colleagues as mature, responsible grown-ups rather than children or compliant robots.
How many readers took took the earlier advice offered in our Weekly series?
Week #1 Kouzes & Posner 
Week #2 Bob Vanourek
Week #3 Barbara Kimmel
Week #4 Mark Fernandes
Week #5 Doug Conant
Barbara Brooks Kimmel is the CEO & Cofounder of Trust Across America-Trust Around the World whose mission is to help organizations build trust and integrity. She facilitates the world's largest membership program for those interested in the subject. Barbara also serves as editor of the award winning TRUST INC. book series and the Executive Editor of TRUST! Magazine. In 2012 Barbara was named "One of 25 Women Changing the World" by Good Business International.
Copyright 2016, Next Decade, Inc.