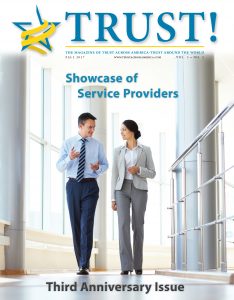 Our third anniversary Showcase of Service Providers has been published.
See the fall issue of TRUST! Magazine.
I hope you will take a few minutes to review the magazine featuring those who place organizational trust in the center of their business agenda.
Nominations are now being accepted for the 8th annual 
Trust Across America Top Thought Leaders in Trust Honors
This year the recognition will again be given to the top 
global
leaders who have made significant contributions to the subject of organizational trust. Please apply
at this link
. You may nominate yourself or another deserving professional. See our
2017 honor roll
published this past January.
Barbara Brooks Kimmel is the CEO and Cofounder of Trust Across America-Trust Around the World whose mission is to help organizations build trust. She also runs the world's largest global Trust Alliance and is the editor of the award- winning TRUST INC. book series. In 2017 she was named a Fellow of the Governance & Accountability Institute, and in 2012 she was recognized as one of "25 Women who are Changing the World" by Good Business International. She holds a BA in International Affairs from Lafayette College and an MBA from Baruch at the City University of NY.
For more information visit our website at www.trustacrossamerica.com or contact Barbara Brooks Kimmel, CEO and Cofounder
Barbara@trustacrossamerica.com
You may also join our Constant Contact mailing list for updates on our progress.