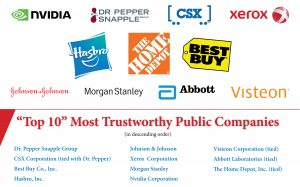 On June 19, 2017 Trust Across America published its annual Top Ten Most Trustworthy Public Companies, describing its selection methodology and other relevant details.
Just one day earlier, CNBC's Michael Santoli announced that the S&P had already met its average return for the full year.
Seven months have passed since June 19, the S&P has continued its advance and America's Most Trustworthy Companies are outperforming this benchmark by 32.25%. (The S&P 500 has returned 14.54% vs. FACTS(R) 19.23%.)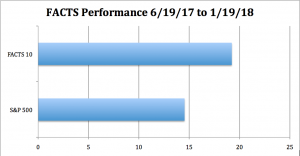 The cynical reader might conclude that Trust Across America's FACTS(R) Framework "got lucky" with its picks and no correlation exists between high trust and profitability. But a closer analysis of our publicly released "Top 10" over six years will reveal that our systematic selection of the most trustworthy public companies might just be more than good luck.

The simple fact is trust works year-over-year. (And just maybe the percentage of women on boards enhances these stellar returns.)
Do you have any questions? Please direct them to barbara@trustacrossamerica.com.
Barbara Brooks Kimmel is the CEO and Cofounder of Trust Across America-Trust Around the World whose mission is to help organizations build trust. She also runs the world's largest global Trust Alliance and is the editor of the award- winning TRUST INC. book series. In 2017 she was named a Fellow of the Governance & Accountability Institute, and in 2012 she was recognized as one of "25 Women who are Changing the World" by Good Business International. She holds a BA in International Affairs from Lafayette College and an MBA from Baruch at the City University of NY.
For more information visit our website at www.trustacrossamerica.com
You may also join our Constant Contact mailing list for updates on our progress.
Copyright (c) 2018, Next Decade, Inc.