This past week the World Economic Forum held its annual meeting at Davos and the global elite were buzzing like bees around the word "trust." 
Overlapping was another meeting being held in a remote corner of NJ (of all places), perhaps because the "polar vortex" was about to ground the attendees' private jets. This gathering was called "Sovad so Good" or "Sovad" for short.)
For those unfamiliar with the annual Davos event, it's by "invitation only," and even those who secure an invite might not be able to afford the cost of admission. Most badges require a membership to the World Economic Forum, which costs somewhere between $60,000 and $600,000, plus an additional fee of more than $27,000 per person to get into the conference. (CNBC, January 25, 2019)
Worth noting: Of the 3000 attendees almost 800 were Americans and 22% were women, up from 21% last year! Less than 5% of S&P 500 CEOs are women—that's just 24 companies. We can't know how many of those 24 were invited to the event in Davos, but the official attendance list includes four of their names: Heather Bresch, CEO of Mylan N.V.; Adena Friedman, CEO of  Nasdaq Inc.;  Vicki Hollub, CEO of Occidental Petroleum Corp.; and Ginni Rometty, CEO of IBM. Quartz, January 21, 2019
Sovad (the other Davos) didn't include the high price tag (or any admission fee for that matter), nor the "A" list of celebrities like Matt Damon or Will.i.am, and side deals were not being done off stage, probably because there was no stage. (Over 50% of the SOVAD group is women.) No large "trust signs" were erected at the entrance to our gathering like the one leading up to Davos. It was just too darn cold for anyone to want to climb a ladder, especially those in skirts.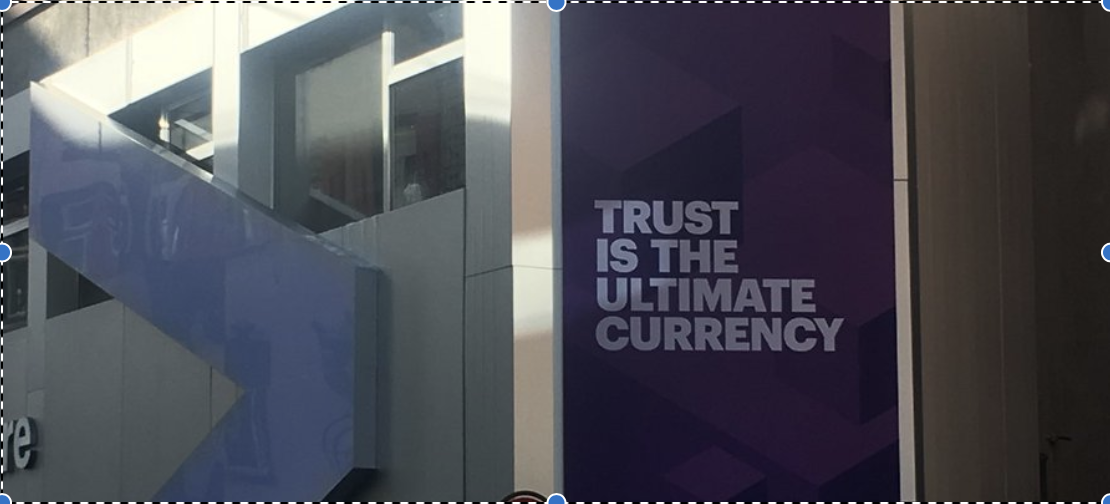 CNN reported, 'Trust is the new buzzword at Davos," and as Dana Carvey "The Church Lady" liked to say on SNL, "Well isn't that special." (Dana and I lived together at one time but that's a topic for another post.) So what was all the Davos "buzz" on trust about? These were the trust "themes:"
Rebuilding trust (think Facebook.) Sheryl Sandberg was the trust "expert" on this subject.

Trust and technology (digital security, AI, blockchain, etc.)

Trust and innovation

Trust and sustainability

Trust and CEOs "taking stands."
To the attendees at Davos these are certainly important revenue generating discussions to be having. But do they actually get to the heart of trust, or even move the needle slightly to elevate societal trust? That's a solid "No."  Here's why.
It seems only one trust conversation was missing at Davos, and probably the most important one: How do we move our societal institutions from trust buzz to trust action? And that was the ONLY conversation at Sovad.
So while the fine food and drink flowed, and the planes stayed warm on the tarmac in Switzerland, the Sovad attendees arrived by auto and took the following action over a burger and a beer:
With no revenue generating agenda, we created 12 universal principles for elevating trust and began asking those who didn't travel to Europe, how that "trust thing" is working in their organization. After all, isn't that where trust starts (and ends)? Apparently, we struck a chord as over 35,000 unassuming folks from around the world have joined the conversation.
Will you take our brand new (one question/one minute) survey? Find out how your organization compares to others.
Note: Some believe that this year's gathering was a disappointment on many fronts. Perhaps the word "trust" was simply a placeholder until a "real" topic can be identified for 2020. Kenneth Rogoff, the Harvard economist, summed it up: "This is the flattest Davos I can remember. Normally, there is a star country or a star industry that everybody is talking about. But this year, there is nothing."
Could it be that the "nothing" has "something" to do with trust?
Barbara Brooks Kimmel is an award-winning communications executive and the CEO and Cofounder of Trust Across America-Trust Around the World whose mission is to help organizations build trust. A former consultant to McKinsey and many Fortune 500 CEOs and their firms, Barbara also runs the world's largest global Trust Alliance, and is the editor of the award-winning TRUST INC. book series and TRUST! Magazine. In 2012 she was named one of "25 Women who are Changing the World" by Good Business International, and in 2017 she became a Fellow of the Governance & Accountability Institute. Barbara holds a BA in International Affairs and an MBA. Don't forget to TAP into Trust!
For more information contact barbara@trustacrossamerica.com
Copyright(c) 2019, Next Decade, Inc.