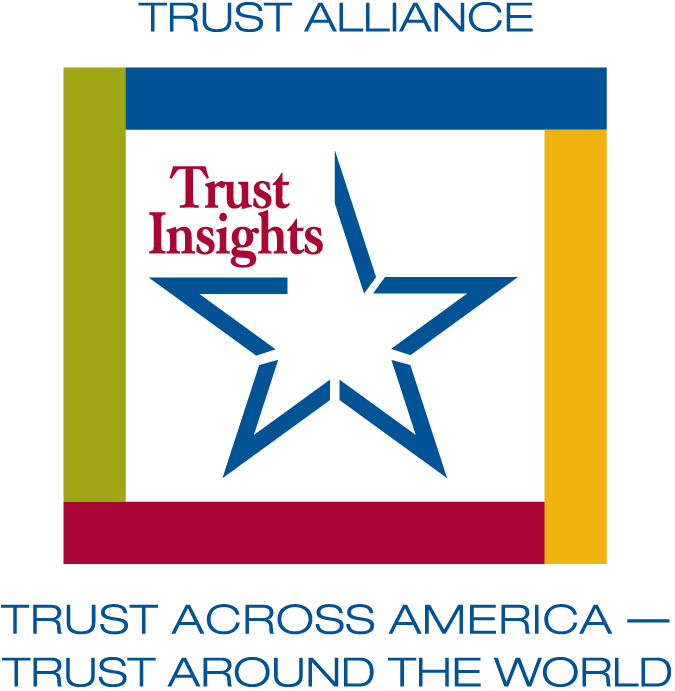 The benefits of high trust are too numerous for leaders to continue to ignore.
Barbara Brooks Kimmel, Founder Trust Across America-Trust Around the World
Study after study confirms that over the long-term, high trust organizations outperform their low trust competitors. These are a few of the benefits:
Elevated employee engagement and retention
Reduced workplace stress
Enhanced decision-making
Innovative culture
More accountability, transparency and communication
Reduced costs
Why do most leaders choose to ignore trust or take it for granted?
The greatest challenges to elevating trust are the inability to delegate it, and having the right tools to fix it. Trust is a top down imperative that cannot be addressed via regulation and requires its own budget. It is not a Corporate Social Responsibility or "purpose" project, nor a compliance, human resources or marketing function, but rather an intentional business strategy adopted by leadership and practiced and reinforced daily. According to the Business Roundtable, vanishing are the days of low transparency, "short-term" thinking and maximization of shareholder value at the expense of other stakeholders. And as low trust continues to make the headlines across the globe, organizations that choose trust as an intentional strategy will continue to outperform their peers.
Take a look at some of the more recent study results:
On average, Trust Across America's (that's us) annual "Top 10″ most trustworthy public companies have outperformed the S&P 500 by over 25% since 2012 (June, 2018). This study  has also been referenced by Gartner and in the Harvard Business Review.

Salesforce Research (2018) surveyed over 6,700 consumers and business buyers globally to better understand the modern customer mindset. 95% of customers say that if they trust a company, they're more likely to be loyal patrons.

PwC's Global Consumer Insights Survey (2018) asked consumers which factors, other than price, influence their decision to shop at a particular retailer. More than one in three (35%) ranked 'trust in brand' as among their top three reasons. 


Another study looking at workplace trust and the impact on employee wellbeing reveals that more than half (53%) of employees considered it to be a major factor in whether they stayed or left a company. More research on the link between trust and wellness in this recent SmartBrief article.
According to Gallup, when employees don't trust organizational leadership, their chances of being engaged are one in 12. But when that trust is established, the chances of engagement skyrocket to better than one in two. That's more than a six-fold increase.
These references are bolstered by dozens of others. Short-sighted business leaders may continue to challenge the "return on trust" but the evidence is mounting. There is not only a business case but also a financial case for trust.
How can leaders elevate trust proactively instead of addressing it after a crisis and playing catch up?
It requires moving beyond talk to acknowledgement followed by ownership and action. Late last year Trust Across America-Trust Around the World introduced a quick and simple survey tool called AIM Towards Trust and Workshop opportunities for teams and organizations of all sizes and in any industry to begin a trust discussion and address the challenges that are holding back trust. The survey has been successfully administered in dozens of teams, organizations and in advance of conferences and workshops. Readers interested in reviewing its various applications can learn more at this link.
Making the decision to elevate trust is not easy.  It requires both introspection on the part of leadership and a certain amount of vulnerability. Virtues like trust, the ones that really matter, must be treated as business imperatives for those who are seeking long-term success. Waiting for the inevitable crisis (most are the result of low trust) to make the old and tired PR speech, declaring that trust must be rebuilt may be the most popular choice, but as we have seen, it's also the most expensive and least effective. Just ask Wells Fargo.
Barbara Brooks Kimmel is the Founder of Trust Across America-Trust Around the World. Now in its eleventh year, the mission is to help organizations build trust. That's all we do. 
Copyright 2020, Next Decade, Inc.