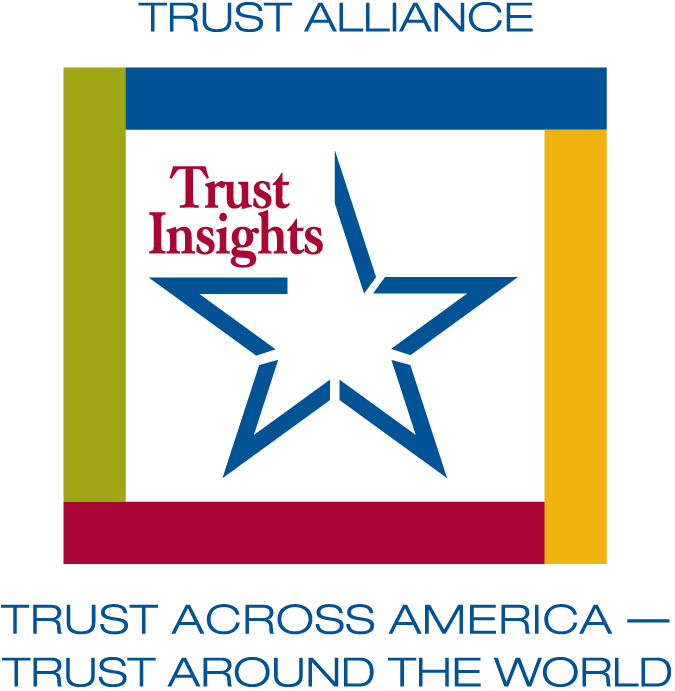 Randy, thank you for participating in our 2020 Trust Insights series. What is your trust insight?
Trust doesn't "just happen." Randy Conley
Can you expand a bit on this important insight?
I've found that people think trust just sort-of evolves naturally over time, as if through some relationship osmosis. The thinking goes that the longer you know and interact with someone, the more you grow to trust them. That leaves the development of trust to happenstance, and for most people, they don't think about trust in a relationship until it's been broken.
A better way is to approach building trust with purpose and intention, and to realize that it's a skill that can be developed. Trust is based on perceptions, and those perceptions are formed by the behaviors we use. If we behave in trustworthy ways, we'll build trust with others. If we use behaviors that erode trust with others, then we won't be trusted. It's pretty straight-forward in that regard. If trust is based on perceptions, the challenge becomes whose perception is the correct one? That's why it's important to have a common definition of trust. Since trust can be so subjective, having a common understanding of what trust is and isn't, allows organizational team members to be on the same page regarding how they can build trust in their relationships.
Can you provide a real life example of a trust "challenge" where your insight has been effectively applied.
I worked with the CEO of a mid-western steel manufacturer and his leadership team to define what trust means for their organization. Trust was one of their core values, but they didn't have a common language or understanding about what that looked like in practice. They adopted our ABCD framework as their definition of trust, which allowed them to communicate to all employees that when they talk about trust, they are referring to team members demonstrating they are Able, Believeable, Connected, and Dependable, and knowing the behaviors that support each of those four elements.
Generally, do you think the global "trust" climate is improving or worsening? What actions are making it better or worse?
In a general sense, the climate of trust seems to be worsening. Society is becoming more polarized over political issues and the pace of change driven by technology is making it difficult for people to adapt. The seeds of distrust are planted when people begin to experience doubt about the intentions of others, which grows into an active suspicion, anxiety, fear, and ultimately self-protection. When people get to a state of self-protection, they are unwilling to take the risk of extending trust.
Many claim we have a crisis of trust. Do you agree?
Generally we do have a crisis of trust, but more specifically, we have a crisis of untrustworthy leaders. At its most fundamental level, trust is an interpersonal dynamic, and organizational leaders need to take more responsibility, and hold themselves to a higher level of accountability, to build and maintain trust with their stakeholders.
Randy, how has your membership in our Trust Alliance benefitted you professionally?
My involvement in the Trust Alliance has benefited me by learning from other experts in the field. Their wisdom has sharpened my thinking about trust and encouraged me to consider viewpoints I may not have considered had I not been part of this community. I, and hopefully other members, have mutually benefited from the support and encouragement we offer each other.
Randy, thank you so much for your time and more importantly for your commitment to elevating organizational trust. What would you like our audience to know about you?
Randy Conley is Vice President & Trust Practice Leader for The Ken Blanchard Companies. He is Blanchard's subject matter expert in the field of trust, co-author of Blanchard's Building Trust training program, and works with organizations around the globe helping them build trust in the workplace. Trust Across America has recognized Randy with a Lifetime Achievement Award as a Top Thought Leader in Trust and he is a founding member of the Trust Alliance. Inc.com named Randy a Top 100 Leadership Speaker & Thinker and American Management Association included him in their Leaders to Watch in 2015 list. He holds a Masters Degree in Executive Leadership from the University of San Diego.
Before you leave, Tap Into Trust and complete our 1 minute/1 question quiz. Find out how the level of trust in your workplace compares to hundreds of others. 
Have you reviewed how our workshops are helping teams and organizations just like yours elevate trust? Schedule an ONLINE webinar today.
Did you miss our previous 2020 Trust Insights? Access them at this link.
Contact us for more information on elevating trust on your team or in your organization or email me directly: barbara@trustacrossamerica.com
Copyright 2020, Next Decade, Inc.