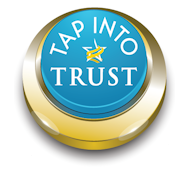 Two significant news headlines recently caught my attention:
Why 2020 Will See the Birth of the Trust Economy (World Economic Forum)
Covid-19 Vaccine Push Lacks a Key Ingredient: Trust (Bloomberg) (links below)
Missing from both articles is a 1) A concise definition of trust and 2) a comprehensive solution.
We define trust as the OUTCOME of principled behavior.
Trust is:
Always built from the inside out by ethical leaders.
It cannot be delegated.
It should not be the subject of a PR or marketing campaign.
It cannot be measured through external surveys (that is perception of trust)
It is not "one size fits all."
Our global Trust Alliance comprised of business leaders, departmental managers, consultants and scholars worked collaboratively for over a year (2017-18) to identify the primary behaviors driving trust in teams and organizations. These 12 behaviors are our Trust Alliance Principles (TAP) and they have now been accessed, at no cost, over 140,000 times in *16 languages. The weakest behaviors break trust. Administering our AIM Assessment has shown that from team to team and organization to organization, these weak behaviors vary. In other words, elevating trust is not "one size fits all."
AIM (an acronym for Acknowledge, Identify, Mend) uses the TAP behaviors to identify those that are breaking trust in order to have a starting place to begin a discussion on how to fix them. (We also provide resources to help our clients quickly resolve the primary weaknesses.)
Leaders and managers who acknowledge that trust is critical to organizational success and choose to elevate it to avoid the next expensive crisis, can do so in 3 steps with an inexpensive plan:
Identify what you believe may need fixing by starting with the checklist below.
Take our 1 minute master survey "Building Trust One Principle at a Time" to determine how your answers compare with over 500 respondents.
Administer our AIM Survey to your team and start a trust discussion by holding a workshop.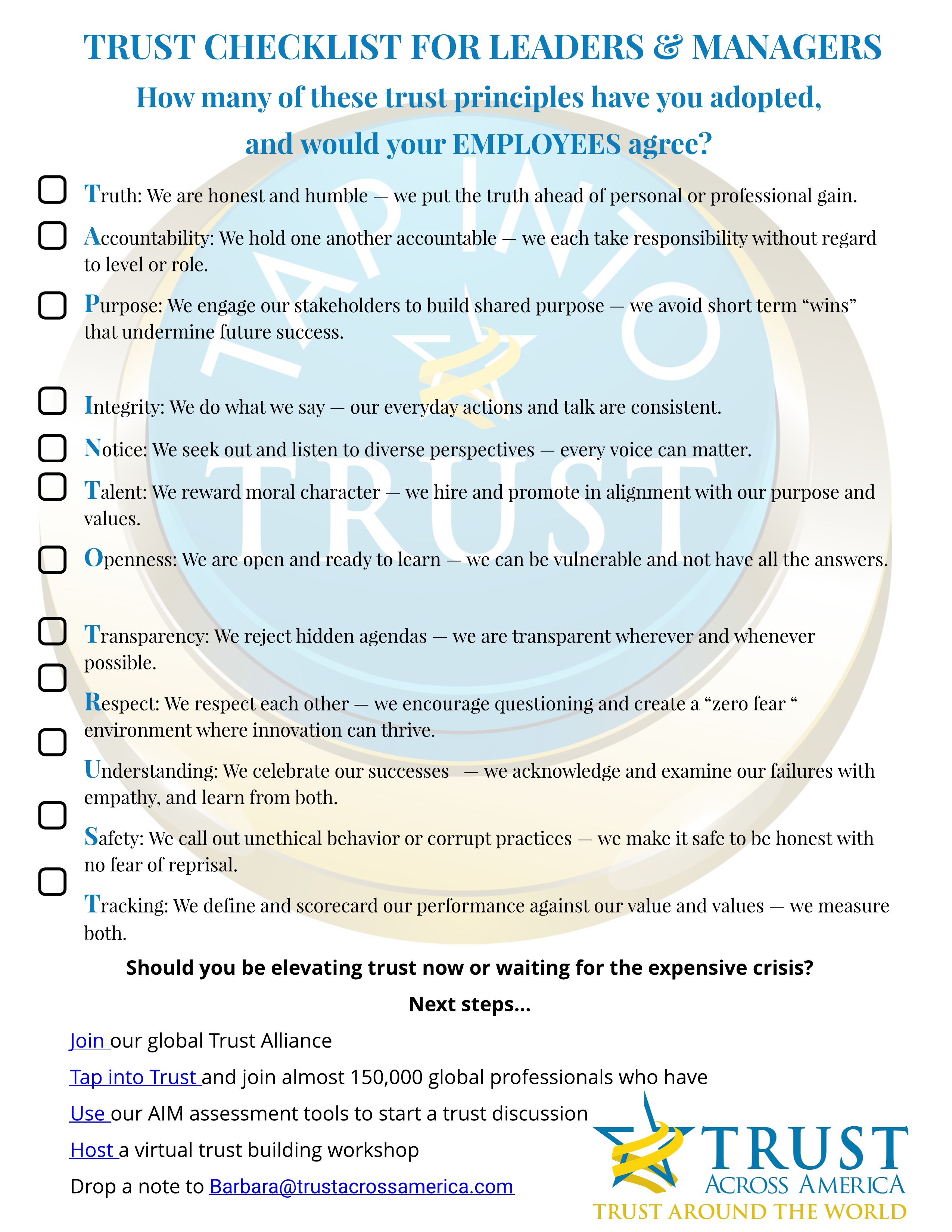 Barbara Brooks Kimmel is the founder of Trust Across America-Trust Around the World, whose mission is to help organizations build trust. Now in its 12th year, the program has developed two proprietary trust-evaluation tools, the latest is AIM Towards Trust. She also runs the world largest global Trust Alliance and is the editor of the award-winning TRUST INC. book series. Kimmel is a former consultant to McKinsey who has worked across multiple industries and with senior leadership. She holds a bachelor's in international affairs from Lafayette College and an MBA from Baruch.
Copyright © 2020, Next Decade, Inc.
Articles cited:
www.weforum.org/agenda/2020/08/2020-birth-of-the-trust-economy/
www.bloomberg.com/opinion/articles/2020-08-17/warp-speed-s-covid-19-vaccine-push-lacks-a-key-ingredient-trust
*Download our principles as a PDF:   English, Arabic, Chinese, Dutch, Finnish, French, German, Hebrew, Hindi, Italian, Japanese, Portuguese (Brazilian), Romanian, Russian, Spanish, and Swedish