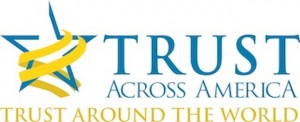 Late last year Trust Across America-Trust Around the World  published the first in a planned series of award-winning books.  TRUST INC., Strategies for Building Your Company's Most Valuable Asset brings together the wisdom of 32 experts. Six months later we released our second book, Trust Inc. A Guide for Boards & C-Suites. In this book, sixty experts have joined forces to offer 100 strategies.
Throughout the month of August, we will be featuring 31 essays from our second book. Each stands alone as an excellent resource in guiding Boards and C-Suites on driving a trust agenda at the highest level in the organization, and provides tools for those who choose to implement trust-building programs in their organization.
The seventh essay in our series brings advice from Carol Anderson, a Principal at Anderson Performance Partners LLC who blogs at The Intersection Blog, where she shares experiences and ideas for intersecting learning with continuous performance improvement. Anderson Performance Partners LLC is a certified woman/veteran-owned business, working with organizations to facilitate problem solving through workforce energy and innovation. She has experience in human resources leadership in government, retail, consulting services, financial services and healthcare, and a bias for positioning human resources as a business partner that adds real value. Carol is also a member of the Alliance of Trustworthy Business Experts (ATBE)
Superficial CEOs and Their Boards
After several months of sitting in Board Compensation Committee meetings as an internal executive comp consultant, I noticed something a little troubling.  The CEO told the Committee exactly what he wanted them to know.  And they never asked questions, or probed for deeper information.  What the CEO wanted them to know was superficial.  It became even more evident that he was staying at the 30,000 foot level (everything's great) as the stock price plummeted and the economy was tanking.
It was an interesting lesson for me.  As I watched, month after month, the financials sink further and further from target, and as I listened to the justification as to why the executive incentive targets should be adjusted or key talent would leave at this critical time, I squirmed.
Where were these highly paid, intelligent, experienced board members?  They read the papers like we did, and they had insider information on what was happening in the organization.  But they never asked a pointed question.  Oh they asked some superficial questions of the CEO, which he answered with his usual panache, and then they approved the restructuring of the targets. 
I wanted to ask the questions myself, even knowing the answers but obviously thought better of that.  I thought about grabbing someone during a break and throwing them a question to ask, but thought better of that too.  So, as the economy slid further in 2008, the organization ultimately went bankrupt.
We all know that a board member has a fiduciary responsibility to the organization, but I wonder if all board members really understand what that means.
I hope you have enjoyed this next sneak peak into our second book. If this brief look behind the door has been helpful, follow this link to order both of our books online.
Barbara Brooks Kimmel is the Executive Director of Trust Across America-Trust Around the World whose mission is to help organizations build trust. She is also the editor of the award winning TRUST INC. book series. In 2012 Barbara was named "One of 25 Women Changing the World" by Good Business International.
Should you wish to communicate directly with Barbara, drop her a note at Barbara@trustacrossamerica.com
Copyright © 2014, Next Decade, Inc.