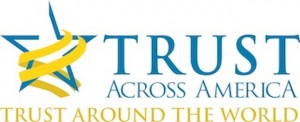 Late last year Trust Across America-Trust Around the World  published the first in a planned series of award-winning books.  TRUST INC., Strategies for Building Your Company's Most Valuable Asset brings together the wisdom of 32 experts. Six months later we released our second book, Trust Inc. A Guide for Boards & C-Suites. In this book, sixty experts have joined forces to offer 100 strategies.
Throughout the month of August, we will be featuring 31 essays from our second book. Each stands alone as an excellent resource in guiding Boards and C-Suites on driving a trust agenda at the highest level in the organization, and provides tools for those who choose to implement trust-building programs in their organization.
This eighteenth essay brings advice from Carol Sanford, The Responsibility Expert. Carol is an Educator and Advisor to Fortune 100 CEOs and New Economy businesses like DuPont, Google and Seventh Generation. She is the CEO of The Responsible Entrepreneur Institute and Author, The Responsible Business and The Responsible Entrepreneur. Carol is also a 2014 Top Thought Leader in Trustworthy Business and a founding member of the Alliance of Trustworthy Business Experts. You can read more about her here.
Trust and Strategy Thinking
Most strategy is disembodied from people in the organization. It is hard to trust what you cannot relate to or worse, feel at the mercy of.
The rank and file sees strategy most often as something management is responsible for and I just do my job. If it is not owned, then all initiatives are seen as arbitrary and self-interested on the part of management. People feel a pawn in the game.
A trustworthy strategic thinking and execution process evokes caring and contribution. Everyone has to see the same value and be able to personally interpret the direction and decisions that are involved.
How to do that: Make all initiatives and measures come from the customer's success, not the companies alone. Trust happens when people feel they are in pursuit of a goal together and that is has meaning. Every individual contribution can be connected to the customer or consumer's life if you take the time. The best way to accomplish this is by measuring what the customer measures and has each functional unit and individual contribution determine what they do for the customer's achievement of that goal. Consider how they, themselves, will measure success.
Now people can trust because it feels like it is about making a difference, not being manipulated by management. Read stories about Fortune 100 and new economy businesses who are changing how they do strategy as a trust building process.
Barbara Brooks Kimmel is the Executive Director of Trust Across America-Trust Around the World whose mission is to help organizations build trust. She is also the editor of the award winning TRUST INC. book series. In 2012 Barbara was named "One of 25 Women Changing the World" by Good Business International.
Should you wish to communicate directly with Barbara, drop her a note at Barbara@trustacrossamerica.com
Copyright © 2014, Next Decade, Inc.