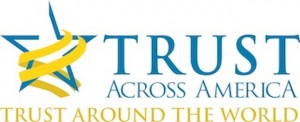 Destiny is no matter of chance. It is a matter of choice. It is not a thing to be waited for, it is a thing to be achieved–  William Jennings Bryan
Early this week we published the inaugural edition of TRUST! Magazine. It features stories of companies and leaders in the financial services industry who are NOT the bad apples we read about daily in the press. These stories contain dozens of best practices that can be emulated and replicated in companies that choose to put trust on their daily docket.
The people who contributed to this magazine are as diverse as the subject of trust itself- Jan Lynn Owen, a California Banking Commissioner, Brad Katsuyama, who's name you may recall from 60 Minutes, Steven Mandis a former Goldman Sachs investment banker, Bruce Cahan a visiting scholar at Stanford University, Jack Hubbard, a member of our trust alliance, who has spent decades teaching bankers how to be trustworthy, and David Reiling the CEO of Sunrise Banks, to name just a few. These are the people who are leading the movement to change the way business is done. These are the people who not only talk trust but walk it too.
In compiling this magazine, I was reminded again and again that industry is not destiny. Similar to the NFL, the good players have their reputation's tarnished by a handful of thugs.
Five years ago, Trust Across America-Trust Around the World developed the only holistic, quantitative measurement of the trustworthiness of public companies. We call it our FACTS Framework and we have been carefully tracking individual company and industry performance since then. The "trust trends", and even the risks we see, are very different than what some of the companies choose to talk about, and what the opinion polls would have you believe. Companies that rise to the top of our model have similar DNA, regardless of their industry. Their thinking is holistic and "long-term" and they crush their competition.
Trust begins with trustworthy leadership at the Board & C-Suite level. We've published two award-winning books on the subject with a third out in November. Trust is built over time and in incremental steps. It doesn't matter what the industry. The steps are the same. If trust is considered a business imperative, it is built into the corporate credo, vision and values, and practiced every day by everyone. It is reinforced at every opportunity.
No company is perfect, but trust ALWAYS begins with the internal actions of leadership. Don't believe for a minute that industry is destiny. Not yet convinced? Read our magazine and see for yourself.
PS- An early observation based on sales… the majority of buyers are not US based. What does that tell you?
Barbara Brooks Kimmel is the Executive Director of Trust Across America-Trust Around the World whose mission is to help organizations build trust. She is also the editor of the award winning TRUST INC. book series and the Executive Editor of TRUST! Magazine. In 2012 Barbara was named "One of 25 Women Changing the World" by Good Business International.
Nominations are now being accepted for Trust Across America-Trust Around the World's 5th annual Global Top Thought Leaders in Trustworthy Business.
Have you seen our brand new magazine TRUST!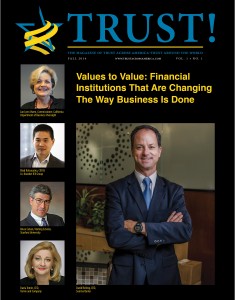 Copyright © 2014, Next Decade, Inc.