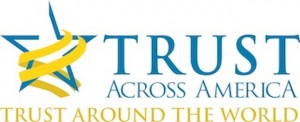 Virtue is more to be feared than vice, because its excesses are not subject to the regulation of conscience.—
Adam Smith
Yesterday I was speaking with a friend who recently changed jobs and is now employed by a public company.  We were discussing how the new firm requires more dotting of i's and crossing of t's in justifying business expenses.  I immediately pictured Oz behind the curtain saying something to the effect of "Prove to me that all your expenses are justified," and then I envisioned all the layers of bureaucracy (and payroll expenses) that feed this "control" process monster screaming, "We can't trust you to do the right thing because our regulations don't allow us to."
And then today, another acquaintance wrote a piece on LinkedIn Pulse called Smart Compliance Doesn't Require Mega-$ or Armies of People. I was excited when I first read the article's title, but that quickly faded. Imagine having 10% of your employees dedicated to compliance? The author makes the argument that financial firms in particular need  "Smart, integrated compliance, risk and reputation management that creates organizational resilience and sustainable success."
Taking this argument one step further, even in financial institutions, integrated compliance, risk and reputation management costs will be even lower when organizational trust is high. It may not be regulated, but that doesn't make trust soft. In fact, quite the opposite. As we have recently shown in our new magazine TRUST!, industry is not destiny, even in financial services. What if we surveyed the financial institutions mentioned in this magazine issue to determine what percentage of their employees are dedicated to compliance, and how much their employees feel bogged down by bureaucracy? The business case for trust has already been made and I'll bet the survey would further support it.
Good luck to those firms who are bogged down by bureaucracy and compliance. They are spending their money in all the wrong places. What do you think? If you work in compliance, risk or reputation management, please weigh in.
Barbara Brooks Kimmel is the Executive Director of Trust Across America-Trust Around the World whose mission is to help organizations build trust. She is also the editor of the award winning TRUST INC. book series and the Executive Editor of TRUST! Magazine. In 2012 Barbara was named "One of 25 Women Changing the World" by Good Business International.
Nominations are now being accepted for Trust Across America-Trust Around the World's 5th annual Global Top Thought Leaders in Trustworthy Business.
                                                                                                 Coming Soon!
Should you wish to communicate directly with Barbara, drop her a note at Barbara@trustacrossamerica.com
Copyright © 2014, Next Decade, Inc.