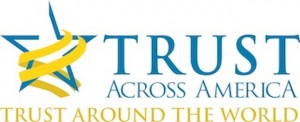 Five years ago tools to assess and build organizational trust were rare and difficult to locate online. Trust Across America-Trust Around the World was formed to serve as a clearinghouse for these tools and related resources.
The most progressive companies are already implementing trust as an intentional business strategy, knowing it is a competitive advantage. Leaders of organizations interested in elevating trust and proactively practicing it as a business strategy, will be interested in these links:
Trust Alliance: a group of global professionals working to elevate trust and share resources.
Trust in a Box: A "do it yourself" solution for professionals and organizations interested in elevating trust, ethics and integrity.
Trust Data: Public companies can review the level of trust within their organization and compare their performance to their peers
2017 Trust Poster: Weekly Do's and Don'ts to Foster Organizational Trust
White Paper:  The State of Trust in Corporate America 2016
Books: An entire Reading Room dedicated to organizational trust.
TRUST! Magazine: a digital magazine, dedicated to helping leaders and organizations place trust on their strategic agenda.
If you lead an organization, serve on a Board or in any management capacity or work with others, and you continue to ignore trust as a hard asset, you are losing out to your competitors. Trust works. Give it a try.
Barbara Brooks Kimmel is the CEO and Cofounder of Trust Across America-Trust Around the World whose mission is to help organizations build trust. Now in its seventh year, the program's proprietary FACTS® Framework ranks and measures the trustworthiness of over 2,000 U.S. public companies on five quantitative indicators of trust. Barbara is also the editor of the award-winning TRUST INC. book series and a Managing Member at FACTS® Asset Management, a New Jersey registered investment advisor.
Nominations are now open for the 7th annual Top Thought Leaders in Trust.
Copyright (c)  2016, Next Decade, Inc.