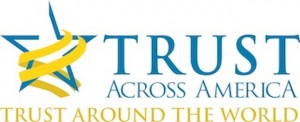 Trust is the glue that binds every good relationship, or so we are told. The challenge not only lies in both definition and degree of trust, but too many people believe they are trustworthy when, in reality, they are not. In fact, both business leaders (and criminals) suffer from what is called "The Better than Average Effect,"  and we've all fallen victim to this psychological phenomenon at one time or another.
Think about how trust "worthy" you consider yourself and then check off how many of the following apply to you. You may not be quite as trust "worthy" as you thought.
Trust me, but don't turn your back.
Trust me, but I come first.
Trust me, but I'm the boss.
Trust me, but I don't walk my talk.
Trust me, but only in the office.
Trust me, but quarterly numbers trump employee well-being.
Trust me, but if the going gets rough…
Trust me, but only until there's nothing left "in it" for me.
Trust me, but first impressions aren't necessarily accurate.
Trust me, but only when I feel like telling the truth.
While some will argue that trust can be established quickly, I believe that trust takes time and is built in incremental steps. And like all bell curves, only a small percentage of people, even our most successful business leaders, are genuinely very trustworthy, regardless of how they perceive themselves.
As my friend Bob Vanourek at Triple Crown Leadership likes to say, "Always trust your instincts." He's right. They will rarely let you down.
Barbara Brooks Kimmel is the Executive Director of Trust Across America-Trust Around the World whose mission is to help organizations build trust, and runs the world's largest membership program for those interested in the subject. She is also the editor of the award winning TRUST INC. book series and the Executive Editor of TRUST! Magazine. In 2012 Barbara was named "One of 25 Women Changing the World" by Good Business International.
Our annual poster, 52 Weeks of Activities to Increase Organizational Trust is available to those who would like to support our work by making a small donation.
Did you know we have published 3 books in our award-winning TRUST Inc. series. They are yours when you join our Alliance.
Copyright 2015, Next Decade, Inc.