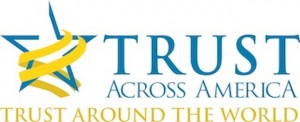 Under the theory that trust is built over time and in incremental steps, Ronald Reagan's famous quote "Trust but verify" is a great one. It implies that as trust is being built, it's important to keep your eye on the ball to ensure it is real and growing.
I also like the "Love all, trust a few" quote by William Shakespeare that may be more true now then when it was originally written.
Another good trust quote by "Unknown" is "Big or small, lies are lies." No explanation needed for this one. There is simply no such thing as a little lie.
But this is the trust quote that I read most frequently, and also the one that does trust the biggest disservice.
"Trust takes years to build, seconds to break, and forever to repair" (also by Unknown)
This is simply not true.
1. Trust does NOT take years to build. While it is built in incremental steps, trust can occur very quickly if both parties consistently display good character and competence.
2. Trust CANNOT be broken in seconds if the relationship has a strong foundation of trust. It can only be broken quickly if the foundation is weak.
3. Trust DOESN'T ALWAYS take forever to repair. If trust is "banked" prior to a breach, the time it takes to repair it will be much shorter. This applies to both interpersonal and organizational trust.
Please don't trivialize trust by using quotes that "just sound good." Trust is the foundation upon which all great relationships are built. Let's treat it with the care it deserves.
Barbara Brooks Kimmel is the Executive Director of Trust Across America-Trust Around the World whose mission is to help organizations build trust. She is also the editor of the award winning TRUST INC. book series and the Executive Editor of TRUST! Magazine. In 2012 Barbara was named "One of 25 Women Changing the World" by Good Business International.
Nominations are now being accepted for Trust Across America-Trust Around the World's 5th annual Global Top Thought Leaders in Trustworthy Business.
                                                                                                 Coming Soon!
Should you wish to communicate directly with Barbara, drop her a note at Barbara@trustacrossamerica.com
Copyright © 2014, Next Decade, Inc.