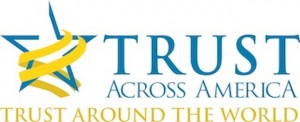 How much are you trusted personally or professionally? It's not that difficult to be trust "worthy" and the rewards are enormous. Instead, most people choose to take trust for granted. They simply don't stop to consider the benefits of high trust including lower costs (both monetary and emotional) and increased speed of decision making.
Here's YOUR daily trust "cheat sheet." Try it for one week!
Want your kids to trust you? Catch them doing something right and let them know.
Want your spouse to trust you? Do ANYTHING for them without being asked. Show you appreciate them.
Want your co-worker to trust you? Invite them to lunch and share something personal. Be a bit vulnerable.
Want your boss to trust you? Show up on time with no excuses. Be reliable.
Want your employees to trust you? Tell each one individually why you appreciate them. Show gratitude.
Mean what you say and say what you mean.
Character, competence, consistency and a bit of gratitude. It's really quite easy.
Don't forget to let me know what happens at the end of the week.
Barbara Brooks Kimmel is the Executive Director of Trust Across America-Trust Around the World whose mission is to help organizations build trust. She runs the world's largest membership program for those interested in learning more, and is also the editor of the award winning TRUST INC. book series and the Executive Editor of TRUST! Magazine. In 2012 Barbara was named "One of 25 Women Changing the World" by Good Business International.
Our 2015 Poster, 52 Weeks of Activities to Increase Organizational Trust is available to those who would like to support our work by making a small donation.
Copyright 2015, Next Decade, Inc.