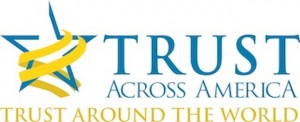 I'm so glad I live in a world where there are Octobers. -
L.M. Montgomery, Anne of Green Gables


October is an important month for Trust Across America-Trust Around the World.
October 1: The season officially gets underway for our 5th Annual Global Top Thought Leaders in Trustworthy Business, honoring those with thought leadership expertise from around the world.  If you are unfamiliar with our program and want to read more about the honor or how to apply, please access this link. The nomination period will remain open until December 1.  Our 2014 Honor Roll can be view at this link.
October 27: During the week of October 27 we will be publishing the first edition of our quarterly publication TRUST! The Magazine of Trust Across America-Trust Around the World. The theme for the fall 2014 inaugural edition will be:
Values to Value: Financial Institutions That Are Changing the Way Business is Done 

We have an all-star lineup of content rich stories. You can read our Magazine FAQ at this link and register to receive notification when it is published by completing our contact form.
We hope you share our excitement as we continue to bring focus to the topic of organizational trust, highlighting individuals and organizations who are making a difference.
Barbara Brooks Kimmel is the Executive Director of Trust Across America-Trust Around the World whose mission is to help organizations build trust. She is also the editor of the award winning TRUST INC. book series. In 2012 Barbara was named "One of 25 Women Changing the World" by Good Business International.
Coming Soon!
Should you wish to communicate directly with Barbara, drop her a note at Barbara@trustacrossamerica.com
Copyright © 2014, Next Decade, Inc.