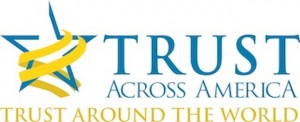 As a colleague reminded me yesterday, it's been five years since the official "birth" of Trust Across America-Trust Around the World and during that time I have learned many lessons about what trust is and what it isn't. I hope you enjoy this short "facts of trust" list. Which of these most resonates with you? What facts would you add?
Everyone defines "trust", "trusted" and "trustworthy" according to their own standards, not a universally accepted benchmark.
Most people take trust for granted instead of "working" it into their daily agenda, through actions more than words.
Instant rapport should not be confused with trust, nor should brand loyalty.
When trust is tested, extend a second chance, but listen to what both your heart and your gut are telling you.
There is no lie detector test equivalent for trust, but character, competence and consistency are great indicators.
There will be betrayals and trust breaches. Use them as learning experiences.
Standards should never be lowered nor integrity compromised for any reason, especially money.
Trust is voluntary while compliance is regulatory. Don't confuse what's right with what's legal.
Trust cannot be restored if it never existed. It also can't be broken in an instant if the existing foundation is strong.
Every organization should have a Chief Trust Officer who works across silos, ensuring that the trust needs of all internal and external stakeholders are met.
Barbara Brooks Kimmel is the Executive Director of Trust Across America-Trust Around the World whose mission is to help organizations build trust. She is also the editor of the award winning TRUST INC. book series and the Executive Editor of TRUST! Magazine. In 2012 Barbara was named "One of 25 Women Changing the World" by Good Business International.
Nominations are now being accepted for Trust Across America-Trust Around the World's 5th annual Global Top Thought Leaders in Trustworthy Business.
Our brand new magazine TRUST! makes the case that in Financial Services, Industry is NOT Destiny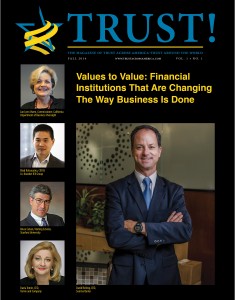 We will be publishing our third book at the end of November.
                                                                                               Coming Soon!
Should you wish to communicate directly with Barbara, drop her a note at Barbara@trustacrossamerica.com
Copyright 2014 Next Decade, Inc.