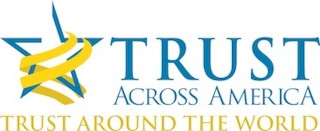 Are we moving into a new age of "transparency" in corporate America?
Let's review a bit of history.
The term "corporate responsibility" has enjoyed a shelf-life of over 50 years, since the 1960s to be exact. Some argue that CSR is merely window-dressing, or an attempt to pre-empt the role of governments as a watchdog over powerful multinational corporations (Wikipedia) and it's hard to believe that almost thirty years have passed since "greenwashing"  came into vogue in a big way.
The term greenwashing was coined by New York environmentalist Jay Westervelt in a 1986 essay regarding the hotel industry's practice of placing placards in each room promoting reuse of towels ostensibly to "save the environment." Westervelt noted that, in most cases, little or no effort toward reducing energy waste was being made by these institutions—as evidenced by the lack of cost reduction this practice effected. (Wikipedia)
Now we're staring to not only hear but also see a new "trend" in corporate communications. It sort of sounds like transparency via the social networks but it's disingenuous. It lacks the right "feel." Here's a few recent Tweets that caught my attention.
Here are a few basic tips for storing and prepping vegetables & melons monsantoblog.com/2014/05/27/keeping-your-salad-safe-and-tasty-proper-care-of-your-salad-ingredients/ … #nationalsaladmonth
#Breakfast is the most important meal of the day. A #healthybreakfast can help you stay focused all day! #Good4U bit.ly/1csnKRk 
Last year, GM saved $162 million in combined energy costs at an industry-leading total of 63 facilities worldwide. #sustainability #CSR
Are you seeing the same pattern that I see?
Let's talk about vegetables, breakfast and energy costs instead of  Roundup, escalating insurance premiums and culture change.
Are companies genuinely interested in being more transparent, or have they found a new "short-term thinking" PR loophole via social media? My guess is the stumbling block lies with the legal and compliance folks, whose focus on what's legal always seems to trump what's right. But in reality, consumers don't want to hear about washing vegetables as much as they do about culture, values and authenticity.
That's the stuff that trust is made of. The rest is just more noise in an increasingly noisy world.
Barbara Kimmel, Executive Director, Trust Across America-Trust Around the World
What do you think? Do you have examples of companies that are using social media in the ways that really matter, the ways that will bring trust back from the sidelines? Email me at barbara@trustacrossamerica.com