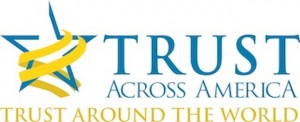 Late last year Trust Across America-Trust Around the World  published the first in a planned series of award-winning books.  TRUST INC., Strategies for Building Your Company's Most Valuable Asset brings together the wisdom of 32 experts. Six months later we released our second book, Trust Inc. A Guide for Boards & C-Suites. In this book, sixty experts have joined forces to offer 100 strategies.
Throughout the month of August, we will be featuring 31 essays from our second book. Each stands alone as an excellent resource in guiding Boards and C-Suites on driving a trust agenda at the highest level in the organization, and provides tools for those who choose to implement trust-building programs in their organization.
A quick reference on what's been covered so far this month:
August 1: There's a Reason Why We Call Them Trustees explains why being an "absentee landlord" doesn't work.
August 2: Kill the Evening Before Dinner and take a small group of front line employees to dinner instead.
August 3: In Head of Business- Hope for the World we are introduced to the Winston "V" Model.
The fourth essay in our series is from James E. Lukaszewski (loo-ka-SHEV-skee), widely known as America's Crisis Guru. He is a speaker, author (12 books and hundreds of articles and monographs), lecturer and ethicist (co-chair of the PRSA Board of Ethics and Professional Standards). His latest book is Lukaszewski on Crisis Communication, What Your CEO Needs to Know About Reputation and Crisis Management.  Jim has been named a 2014 Top Thought Leader in Trustworthy Business by Trust Across America-Trust Around the World. His website is www.e911.com 
Reputation vs. Trust
I've always thought that the whole notion of reputation was more a Public Relations construct than a management concern. Leaders care about trust.
During my nearly 40 years in reputation, leadership and organizational recovery I can't recall a serious discussion of reputation in a management circumstance by those running the business until just before they were about to lose or see their reputation seriously damaged. Public Relations advisors rather than business operators raised the issues.
Trust is a powerful management term. I define trust as the absence of fear. I interpret fear to mean the absence of trust. Trust is a management word; trust is a powerful cultural word. Trust is a word that has its counterparts in virtually every culture on the planet; and trust is understood clearly and immediately by just about everybody. Generally it's mom who taught us about trust, so we remember.
Chief Executives of troubled organizations don't lose their jobs because there's a reputation problem. They lose their jobs because there is a trust problem, a failure to provide the assurance that prevents the fear of serious adverse circumstances. If we're talking seriously about our relationship with constituents, stakeholders, employees, the public, anyone who has a stake in our organization for whatever reason, we're talking about trust.
Reputation? We'll need to call the PR department for the latest definition.
I hope you have enjoyed this next sneak peak into our second book. If this brief look behind the door has been helpful, follow this link to order both of our books online.
Barbara Brooks Kimmel is the Executive Director of Trust Across America-Trust Around the World whose mission is to help organizations build trust. She is also the editor of the award winning TRUST INC. book series. In 2012 Barbara was named "One of 25 Women Changing the World" by Good Business International.
Should you wish to communicate directly with Barbara, drop her a note at Barbara@trustacrossamerica.com
Copyright © 2014, Next Decade, Inc.