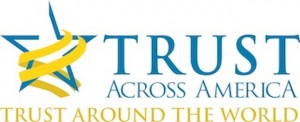 Late last year Trust Across America-Trust Around the World  published the first in a planned series of award-winning books.  TRUST INC., Strategies for Building Your Company's Most Valuable Asset brings together the wisdom of 32 experts. Six months later we released our second book, Trust Inc. A Guide for Boards & C-Suites. In this book, sixty experts have joined forces to offer 100 strategies.
Throughout the month of August, we will be featuring 31 essays from our second book. Each stands alone as an excellent resource in guiding Boards and C-Suites on driving a trust agenda at the highest level in the organization, and provides tools for those who choose to implement trust-building programs in their organization.
A quick reference on what's been covered so far this month:
August 1: There's a Reason Why We Call Them Trustees explains why being an "absentee landlord" doesn't work.
August 2: Kill the Evening Before Dinner and take a small group of front line employees to dinner instead.
August 3: In Head of Business- Hope for the World we introduce the Winston "V" Model.
August 4: Reputation vs. Trust and why leaders should care more about the latter.
The fifth essay in our series brings us the wisdom of Bernie Nagle Principal at  Altrupreneur  who has toiled in the fields of "Employee Engagement" for over 35 years, as a senior Operations Executive at Fortune 500 companies, Consultant, Author, Speaker and Business Owner. His perspective is informed by thousands of hours of facilitation and hands-on leadership of teams from the shop floor to the boardroom, dealing with strategic improvisation, creative problem solving, process improvement and conflict resolution.
C-Suite Leaders Must Learn to Speak with a V.O.I C.E. of Trust
"I cannot hear what you say, because your actions scream "INSINCERITY" so loudly"
The currency of leadership is credibility! Collins & Porras told us so in their 1994 book, "Built to Last". Draw the 'credibility' account down too low and you risk losing your team, and quite possibly your job. So how does one maintain a strong 'credibility' current-ratio? The answer is simple…use your V.O.I.C.E. and learn how become an Altrupreneur.
Values: Know what you believe and allow those beliefs to inform every interaction. Kouzes and Posner advise us: "To be credible as a leader, you must first clarify your own values, the standards by which you choose to live your life."
Optimism: To inspire engagement leaders must take the long view, remain fixed on the vision and strive persistently toward the goal – despite the upheaval and tumult along the way. Daily mood swings do not inspire trust.
Integrity: The word, 'integrity', signifies wholeness; an absence of duality; a "what- you-see-is-who-I-am" persona. At its most basic, Integrity is alignment between beliefs, words, and actions. Be who you say you are.
Courage: Take reasoned risks in pursuit of team objectives. Take risks with people; allow them to try, and pick them up when they fail – help them fail forward.
Enthusiasm: Passion is contagious; regrettably, so are ambivalence, doubt, and detachment. Enthusiasm conveys a deeply held belief in the validity of the endeavor. It tells the team, "I believe in what we're doing". They will too!
I hope you have enjoyed this next sneak peak into our second book. If this brief look behind the door has been helpful, follow this link to order both of our books online.
Barbara Brooks Kimmel is the Executive Director of Trust Across America-Trust Around the World whose mission is to help organizations build trust. She is also the editor of the award winning TRUST INC. book series. In 2012 Barbara was named "One of 25 Women Changing the World" by Good Business International.
Should you wish to communicate directly with Barbara, drop her a note at Barbara@trustacrossamerica.com
Copyright © 2014, Next Decade, Inc.