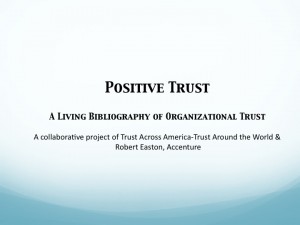 Trust Across America-Trust Around the World is pleased to issue an update of our Trust Bibliography in collaboration with Robert (Bob) Easton, a Partner at Accenture.
This document is meant to serve as a resource for both academics and practitioners interested in learning more about organizational trust.  We believe it is the largest database of its kind.
Barbara Brooks Kimmel is the Executive Director of Trust Across America-Trust Around the World whose mission is to help organizations build trust. She is also the editor of the award winning TRUST INC. book series. In 2012 Barbara was named "One of 25 Women Changing the World" by Good Business International.
Should you wish to communicate directly with Barbara, drop her a note at Barbara@trustacrossamerica.com
Copyright © 2014, Next Decade, Inc.