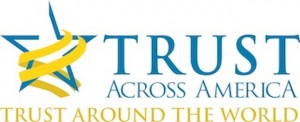 Late last year Trust Across America-Trust Around the World  published the first in a planned series of award-winning books.  TRUST INC., Strategies for Building Your Company's Most Valuable Asset brings together the wisdom of 32 experts. Six months later we released our second book, Trust Inc. A Guide for Boards & C-Suites. In this book, sixty experts have joined forces to offer 100 strategies.
Throughout the month of August, we will be featuring 31 essays from our second book. Each stands alone as an excellent resource in guiding Boards and C-Suites on driving a trust agenda at the highest level in the organization, and provides tools for those who choose to implement trust-building programs in their organization.
This seventeenth essay brings advice from Ellen Hunt. Ms. Hunt joined AARP as the Director of Ethics & Compliance to assist the organization with establishing its Ethics & Compliance Program. Her responsibilities include building trust and helping the organization and its employees make ethical decisions. Any opinions expressed by Ms. Hunt are solely her own and are not made on behalf of AARP.
The Culture is the Secret Sauce
In announcing his resignation in the New York Times, Greg Smith said that culture was vital to Goldman Sachs's success and was "the secret sauce that made this place great and allowed us to earn our clients' trust for 143 years." The scandal du jour that was once served as an appetizer has now increased the public's appetite to devour corporate reputations as the main course. This requires the Board and C-suite to be the master chefs of the secret sauce. The key ingredients are integrity and honesty. You must come to the table with these ingredients, use them to guide your decisions, and stand before the organization as a model for ethical behavior. To be successful, you must make the secret sauce seep through the organization. It must bubble down from the boardroom to the mailroom and rise back up again. It must be everywhere.
Anything less, any substitutions, simply will not do.
On how to be the example see Scott Killingsworth, Modeling the Message. Available at SSRN: 
Barbara Brooks Kimmel is the Executive Director of Trust Across America-Trust Around the World whose mission is to help organizations build trust. She is also the editor of the award winning TRUST INC. book series. In 2012 Barbara was named "One of 25 Women Changing the World" by Good Business International.
Should you wish to communicate directly with Barbara, drop her a note at Barbara@trustacrossamerica.com
Copyright © 2014, Next Decade, Inc.