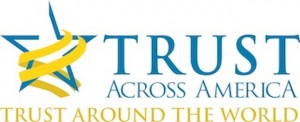 Late last year Trust Across America-Trust Around the World  published the first in a planned series of award-winning books.  TRUST INC., Strategies for Building Your Company's Most Valuable Asset brings together the wisdom of 32 experts. Six months later we released our second book, Trust Inc. A Guide for Boards & C-Suites. In this book, sixty experts have joined forces to offer 100 strategies.
Throughout the month of August, we will be featuring 31 essays from our second book. Each stands alone as an excellent resource in guiding Boards and C-Suites on driving a trust agenda at the highest level in the organization, and provides tools for those who choose to implement trust-building programs in their organization.
This twenty-eighth essay brings advice from Matthew T. Fritz, a leader and mentor in the field of complex organizational change, emotional intelligence, and organization strategy. A successful DoD senior-acquisition program manager and test leader, Matt is a 20-year active duty Field-Grade Officer and pilot with command-experience in the United States Air Force. Matt is also a certified acquisition professional, as well as a certified Emotional Intelligence Practitioner. You can learn more about Matthew Fritz on his personal blog at AdvancedVectors.com 
Trust Is Built Upon Shadows
Each of us is prone to believing our own legend, and as a result, must be aware of the shadows we cast. As can be observed when standing close to the fire, the further we move away from the light—the longer our shadow grows. Self-Awareness is the fire of knowledge burning brightly inside all of us. As we let our ego drive us further away from the fire, our shadow lengthens accordingly.
As the leader, you cast your shadow and light over your Team each day, and your Teammates take on the traits you impart upon them. As we demonstrate in our senior-military culture, a leader's own actions and behavior shape the culture of their teammates more than any processes, hierarchy or manner of communicating. As the leader, you have the responsibility to create a culture that models and encourages trust.
Leaders have a responsibility to avoid a fate similar to that of Napoleon—for themselves and their Team. Be aware of your shadow and develop your ability to cast light in your environment. Better yet, find people in your life you can trust
to provide honest feedback and help you manage your shadow. Shadow-managers point you back to the light and stoke your fire to burn brighter. Be true to yourself and your integrity . . . it's simpler than you think. Avoid the trap of believing in your own legend. Waterloo awaits those who fail in this pursuit!
I hope you have enjoyed this next sneak peak into our second book. If this brief look behind the door has been helpful, follow this link to order both of our books online.
Barbara Brooks Kimmel is the Executive Director of Trust Across America-Trust Around the World whose mission is to help organizations build trust. She is also the editor of the award winning TRUST INC. book series. In 2012 Barbara was named "One of 25 Women Changing the World" by Good Business International.
Should you wish to communicate directly with Barbara, drop her a note at Barbara@trustacrossamerica.com
Copyright © 2014, Next Decade, Inc.