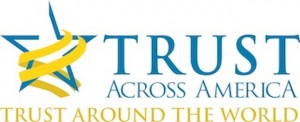 Late last year Trust Across America-Trust Around the World  published the first in a planned series of award-winning books.  TRUST INC., Strategies for Building Your Company's Most Valuable Asset brings together the wisdom of 32 experts. Six months later we released our second book, Trust Inc. A Guide for Boards & C-Suites. In this book, sixty experts have joined forces to offer 100 strategies.
Throughout the month of August, we will be featuring 31 essays from our second book. Each stands alone as an excellent resource in guiding Boards and C-Suites on driving a trust agenda at the highest level in the organization, and provides tools for those who choose to implement trust-building programs in their organization.
This twenty-ninth essay brings advice from my friend Davia Temin. She is CEO of the boutique management consultancy Temin and Company, is a crisis and reputation advisor, product marketing and media strategist, and leadership, communications, and media coach operating at the Board and leadership levels. Temin and Company creates, enhances and saves reputations for global corporations, professional services firms, colleges and universities, and individual CEOs and Board Directors. www.teminandco.com.   Davia  is also a 2014 Top Thought Leader in Trustworthy Business and a member of the Alliance of Trustworthy Business Experts.
Boards in Crisis — Where Trust is Forged and Broken
There is no time more fraught for Boards than a time of crisis.
Should the Board intervene publicly or let management handle the situation? How should the Chair, the Executive Committee, and the entire Board govern the crisis: fingers out, thumbs in; scrutinizing every move; taking over; or at arms length?
The Board's actions will, of course, dictate how the crisis will resolve: whether the company's reputation for trustworthiness will grow or diminish in the aftermath.
All depends upon the crisis. If the crisis revolves around CEO succession, leadership breaches or malfeasance, tragedies, or major corporate events such as mergers or acquisitions, the board must be strongly present and occasionally visible. But, at those times, when passions are running high, there may be dissension on the Board.
Best advice: boards must develop their own robust crisis plans prior to any crisis. They must enumerate what kinds of actions will be taken for different issues: their crisis strategies and philosophies, the speed at which they will work, and who on the board will be designated to play first string, even if — especially if — the Chair or CEO is implicated in some way.
(See paper at this link) www.teminandcompany.com/thought-leadership/884-reputation-agenda-for-directors-a-20-point-plan-for-boards-to-address-reputational-risk#.U_-AgICwIp8
Reputation is becoming one of the top priorities of corporate boards. The best way to protect reputation, and trustworthiness, is to plan before any crisis hits, adjust strategies in real time to fit the specifics of a crisis, and then for the board to execute its plan fearlessly.
I hope you have enjoyed this next sneak peak into our second book. If this brief look behind the door has been helpful, follow this link to order both of our books online.
Barbara Brooks Kimmel is the Executive Director of Trust Across America-Trust Around the World whose mission is to help organizations build trust. She is also the editor of the award winning TRUST INC. book series. In 2012 Barbara was named "One of 25 Women Changing the World" by Good Business International.
Should you wish to communicate directly with Barbara, drop her a note at Barbara@trustacrossamerica.com
Copyright © 2014, Next Decade, Inc.