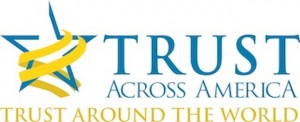 Late last year Trust Across America-Trust Around the World  published the first in a planned series of award-winning books.  TRUST INC., Strategies for Building Your Company's Most Valuable Asset brings together the wisdom of 32 experts. Six months later we released our second book, Trust Inc. A Guide for Boards & C-Suites. In this book, sixty experts have joined forces to offer 100 strategies.
Throughout the month of August, we will be featuring 31 essays from our second book. Each stands alone as an excellent resource in guiding Boards and C-Suites on driving a trust agenda at the highest level in the organization, and provides tools for those who choose to implement trust-building programs in their organization.
This twenty-seventh essay brings advice from Jesse Stoner, a business leader, consultant, and author of several books including the international bestseller Full Steam Ahead! Unleash the Power of Vision, which has been translated into 21 languages. Over the past 25 years Jesse has worked with hundreds of leaders using collaborative processes to engage the entire workforce in creating their desired future. Her clients range from Fortune 500's to non-profits worldwide, including Honda, Marriott, Edelman Public Relations, Skanska, and SAP to name a few. She writes an award winning leadership blog.
Lead with Integrity and Character
Your character is your greatest source of influence, no matter what your role or position. Your character is the expression of who you are. And influential character is built on a foundation of integrity.
Integrity is the commitment to consistently act on your values. Integrity means you can be trusted to say what you mean and do what you say.
When you are a leader, everything you say and do is magnified. You raise an eyebrow and people wonder what it means. You make an off-handed comment and people react strongly. Each nuance is considered a mandate.
This is the nature of leadership. It doesn't matter whether you like it or not. Your actions are being scrutinized every moment. If you are slightly inconsistent, it is magnified in the view of others. You don't have the luxury of cheating in a silly game or telling a crude joke. You can't take "time off."
You can get compliance through bullying and manipulation, but you won't be trusted or respected. If you want to be a leader that people choose to follow, they must trust you.
Trust is a state that arises naturally like love, joy and gratitude. You can't command it to arise in others, but you can create the conditions for it to arise. The only place you can start is to act in a trustworthy manner – with integrity.
I hope you have enjoyed this next sneak peak into our second book. If this brief look behind the door has been helpful, follow this link to order both of our books online.
Barbara Brooks Kimmel is the Executive Director of Trust Across America-Trust Around the World whose mission is to help organizations build trust. She is also the editor of the award winning TRUST INC. book series. In 2012 Barbara was named "One of 25 Women Changing the World" by Good Business International.
Should you wish to communicate directly with Barbara, drop her a note at Barbara@trustacrossamerica.com
Copyright © 2014, Next Decade, Inc.