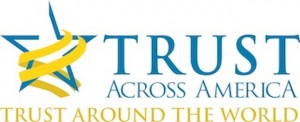 Late last year Trust Across America-Trust Around the World  published the first in a planned series of award-winning books.  TRUST INC., Strategies for Building Your Company's Most Valuable Asset brings together the wisdom of 32 experts. Six months later we released our second book, Trust Inc. A Guide for Boards & C-Suites. In this book, sixty experts have joined forces to offer 100 strategies.
Throughout the month of August, we will be featuring 31 essays from our second book. Each stands alone as an excellent resource in guiding Boards and C-Suites on driving a trust agenda at the highest level in the organization, and provides tools for those who choose to implement trust-building programs in their organization.
This thirtieth essay brings advice from Charles H. Green, an author, speaker and world expert on trust-based relationships and sales in complex businesses. Founder and CEO of Trusted Advisor Associates, he is co-author of the classic The Trusted Advisor and its practical follow-up, The Trusted Advisor Fieldbook, and author of Trust-based Selling. Charles works with complex organizations to improve trust in sales, internal trust between organizations, and trusted advisor relationships with external clients and customers. He is also a 2014 Top Thought Leader in Trustworthy Business , a member of the Alliance of Trustworthy Business Experts , and serves on Trust Across America's Steering Committee.
Leading for Trust: Let's Get Real
Forget incentives, metrics and recognition programs. This is trust you're talking about – you don't get there by sprinkling cheese to encourage mice to get through a maze, or by checking boxes for legal compliance.
There is only one thing that will build trust into your organization's DNA, and there are four steps to get you there. That thing is values based leadership. The steps are:
Articulate precisely

the several trust-related values you will insist on

Connect frequently

the values to specific instances where they should be applied

Role-model

yourself those values wherever possible

Sanction or

fire

those who violate the values of the organization.
Why is values-based leadership so critical to establishing organizational trust? Because trust itself is a value. We don't trust those who just mechanically execute behaviors. We don't trust those who just see trust as a hook to make money. And we don't trust those who are motivated by extrinsic rewards.
We trust those who are personally trustworthy, and who have the courage and the judgment to trust us in turn. We trust those for whom trust is a value, not a means to an end. And paradoxically, those people end up achieving more ends anyway.
I hope you have enjoyed this next sneak peak into our second book. If this brief look behind the door has been helpful, follow this link to order both of our books online.
Barbara Brooks Kimmel is the Executive Director of Trust Across America-Trust Around the World whose mission is to help organizations build trust. She is also the editor of the award winning TRUST INC. book series. In 2012 Barbara was named "One of 25 Women Changing the World" by Good Business International.
Should you wish to communicate directly with Barbara, drop her a note at Barbara@trustacrossamerica.com
Copyright © 2014, Next Decade, Inc.