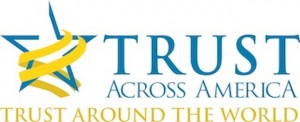 Late last year Trust Across America-Trust Around the World  published the first in a planned series of award-winning books.  TRUST INC., Strategies for Building Your Company's Most Valuable Asset brings together the wisdom of 32 experts. Six months later we released our second book, Trust Inc. A Guide for Boards & C-Suites. In this book, sixty experts have joined forces to offer 100 strategies.
Throughout the month of August, we will be featuring 31 essays from our second book. Each stands alone as an excellent resource in guiding Boards and C-Suites on driving a trust agenda at the highest level in the organization, and provides tools for those who choose to implement trust-building programs in their organization.
This final essay wraps up our series with a short piece that I wrote for this book.  For those interested in a brief bio, I am the  Co-founder and Executive Director of Trust Across America –Trust Around the World and editor of  the Trust Inc. series of books.  In 2012 I was named one of "25 Women who are Changing the World" by Good Business International. In a previous life, I worked as a consultant to McKinsey & Company, and for the past 20 years, I have owned an award-winning communications firm in the NY Metro area called Next Decade, Inc. I majored in International Affairs at Lafayette College and have an MBA from Baruch at the City University of New York. My proudest accomplishment is having raised two children with extraordinary character and values, who like many of their friends and classmates, represent hope for the next generation of business leaders.
Trust in Crisis: The Leader's Formula
Crisis management has become a complex field, and for good reason. There is no shortage of them in communities, businesses and the government.   But those who choose to proactively lead with trust will find any reputation blow to be softer and speedier, and the recovery much easier.
First, let's look at the central attributes of a crisis:
It has the potential to do significant reputational damage
It has the potential to hurt at least one group of stakeholders- consumers, shareholders, employees, community, etc.
It is unique and often unpredictable (although not always)
It is of interest to the media
Now let's look at the 5 essential SHORT-TERM measures leaders must take as the crisis unfolds:
In the first 24 hours communicate widely and communicate consistently
Tell the truth
Tell it accurately
Tell it fully
Tell it yourself
And the 5 essential LONG-TERM measures for those choosing to lead with trust:
Accept responsibility
Take long-term corrective action, not a short term band aid
Address any systemic problems
Rebuild broken bridges
Continue to communicate openly
It's not rocket science, but the missing ingredient is ALWAYS trust, and that's what keeps the crisis consultants and specialists in business.
The "business case for trust" has been made. While cultural shifts take time, those who lead with trust will be rewarded with a long-term competitive edge, and an easier recovery when the next crisis happens.
This essay concludes our August series. I hope you have enjoyed this sneak peak into our second book. There are many more suggestions and advice in our TRUST INC. book series. If this brief look behind the door has been helpful, follow this link to order both of our books online.
Should you wish to communicate directly with Barbara, drop her a note at Barbara@trustacrossamerica.com
Copyright © 2014, Next Decade, Inc.