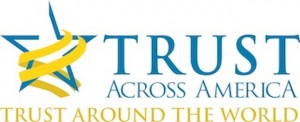 Today's blog post is somewhat of a rant, but it contains a trust message. It's about a call I received yesterday.
The conversation went something like this:
Him: Hi, it's your buddy John Smith conference organizer. Trust Across America-Trust Around the World was kind enough to offer us a panel discussion of trust experts for our upcoming conference, but we decided to pass.
(Side Note: Several months ago this same group declined our panel of experts, but DID choose to use our idea and assemble their own panel on the topic of "trust." The brochure description has little to do with the subject of trust itself, nor are any of the panelists experts, but hey,"trust" is a cool buzzword.)
Back to the conversation:
Him: Anyway, I have an even better offer for you. I would like you to come speak. Our speakers usually pay $10,000, but you can speak for $2500. We'll even throw in free admission to the conference, and a dinner. And you can bring some books to sell.
Me: Huh? You want me to pay you for the "privilege" of  speaking at your event? I won't pay to speak.
Him: Okay thanks, and take care.
Tell me you can't pay me but don't ask me to pay you. It's not only insulting but speaks volumes about the "quality" of your conference. If I were an attendee, I would want to know, in advance of registering, how many of your speakers were paying to peddle their wares.
If you are a conference organizer and this is your business model, you are shooting yourself in the foot, from a quality perspective, and I'm about to tell you why.
Earlier this week I was asked to speak (without having to write out a check) at another conference next summer. I respectfully declined because I did not think I was the right person for this engagement, but offered up the names of several folks who are members of our Alliance, and who have the expertise to do an outstanding job. But first I checked in with these people to make sure they were available. Most of them wanted more information about the "quality" of the conference and the conference host. They have learned from past experience. They won't compromise their integrity, nor will they agree to speak without a quality assurance. They certainly won't pay.
This practice is becoming the industry "norm," at many conferences.  Remember the expression about "getting what you pay for?" The conference organizer may be maximizing short-term profits, but they are failing to build the "right" long-term relationships. It's what I call a long-term "lose/lose" and it certainly compromises the quality of the conference, and the reputation of the organization itself.
Too me, this business model is a trust-buster.
Enough said. What do you think?
Barbara Brooks Kimmel is the Executive Director of Trust Across America-Trust Around the World whose mission is to help organizations build trust. She is also the editor of the award winning TRUST INC. book series. In 2012 Barbara was named "One of 25 Women Changing the World" by Good Business International.
                                                                                                  Coming Soon!
Should you wish to communicate directly with Barbara, drop her a note at Barbara@trustacrossamerica.com
Copyright © 2014, Next Decade, Inc.