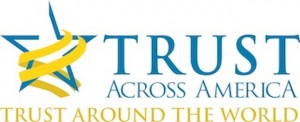 Many a witty inspiration is like the surprising reunion of befriended thoughts after a long separation. Karl Wilhelm Friedrich Schlegel  
Last night I attended my high school reunion. It was a ton of fun seeing old friends, telling stories, and most important, sharing lots of laughs.

The surprise came from the impromptu and unsolicited conversations about trust. Unbeknownst to me, many old friends are following my blog, and they wanted to talk about it. Here's just a few of the questions that were posed.
My company was acquired and after 16 years on the job my vacation was cut from 3 weeks to 1 week. What do you think about that?
My boss decided we no longer need to travel to see clients to build relationships.  What do you think about that?
The new generation of hires has different corporate culture expectations than we did. What do you think about that?
I work in financial services. My old clients trust me but getting new clients is a real challenge? Any thoughts?
The questions were as varied as the subject of trust itself. Nevertheless, people want to talk about it.
If you are reading this, it's probably because you recognize the importance of trust in all relationships. So why not talk to your boss, your clients, the new hire, or your customers about the role of trust in business success? Keep the trust dialogue going. That's the way to effect positive change.
Thank you Sally, Danny, Rand, Ken, Marion, Cindy Paul, Steve and all my friends who spent some time "talking trust" last night. Keep your questions coming and open the dialogue with others.
Barbara Brooks Kimmel is the Executive Director of Trust Across America-Trust Around the World whose mission is to help organizations build trust. She is also the editor of the award winning TRUST INC. book series. In 2012 Barbara was named "One of 25 Women Changing the World" by Good Business International.
Nominations are now being accepted for Trust Across America-Trust Around the World's 5th annual Global Top Thought Leaders in Trustworthy Business.
                                                                                               Coming Soon!
Should you wish to communicate directly with Barbara, drop her a note at Barbara@trustacrossamerica.com
Copyright © 2014, Next Decade, Inc.