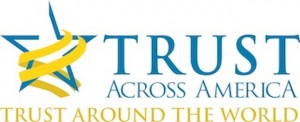 Welcome!
Our monthly roundup is another collaborative undertaking of our Trust Alliance, selected blog posts on a variety of organizational trust topics. The subjects are as diverse as the expertise of our members!
By reviewing these posts, our readers will have a better appreciation for the importance of embracing trust as an organizational imperative.
Let's get started!
What is the outcome when terms like "brutally honest" are used? Holly Latty-Mann discusses this in Trust and Honest Feedback: Up Close and Personal
Do you trust your employees to tweet about the company? Nan Russell shares some excellent advice in Psychology Today.
Taina Savolainen an academic partner from Finland discusses the role of story-telling in building organizational trust.
Linda Fisher Thornton wonders what our workplaces would be like if every leader cared about others.
My most popular post this month introduces Trust Across America's VIP Model. Take a look!
And finally, what does your "place" smell like? This is an excellent 8 minute speech by Professor Sumantra Ghoshal at the World Economic Forum. It's about corporate environments and the faults of management in creating a positive work place. The goal is "trust" and Professor Ghoshal explains why in "The Smell of the Place." The speech has been accessed almost 85,000 times.
Barbara Brooks Kimmel is the Executive Director of Trust Across America-Trust Around the World whose mission is to help organizations build trust, and runs the world's largest membership program for those interested in the subject. She is also the editor of the award winning TRUST INC. book series and the Executive Editor of TRUST! Magazine. In 2012 Barbara was named "One of 25 Women Changing the World" by Good Business International.
Our annual poster, 52 Weeks of Activities to Increase Organizational Trust is available to those who would like to support our work by making a small donation.
Did you know we have published 3 books in our award-winning TRUST Inc. series. They are yours when you join our Alliance.
Copyright 2015, Next Decade, Inc.