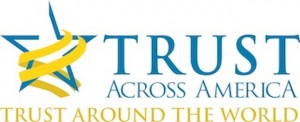 Yesterday in a CNBC interview with Jim Cramer, Marc Benioff emphatically stated that "trust is the highest value at Salesforce." The company's success is a by-product.
Ten years ago tools to assess and build organizational trust were rare and difficult to locate online. Trust Across America-Trust Around the World was formed, in part, to serve as a clearinghouse for trust tools and related resources.
Like Salesforce.com, most progressive companies are pursuing trust as an intentional business strategy, knowing full well that it is a competitive advantage. Leaders of organizations of any size and shape who are interested in elevating trust and proactively practicing it as a business strategy, may find these website links to be useful. Many of the resources are free.
FREE RESOURCES (Most Popular)
Trust Across America Blog: Viewed 74,898 times in February
TRUST! Magazine: a digital magazine, dedicated to helping leaders and organizations place trust on their strategic agenda. Our current issue has been accessed over 20,000 times.
Case Studies: Our Trustlets are a newly launched and growing library of real-life cases available as free downloads and for use in both academia and business.
Trust Bibliography: Updated annually and curated by Robert Easton, a partner at Accenture, it is probably the most extensive online research tool available (currently 86 pages).
Building Trust Reports: A growing library of "special reports" written by members of our vetted Trust Alliance.
Special Report via our Corporate Integrity Monitor: The Impact of Trust on Financial Returns
Join our Constant Contact mailing list for updates on our progress.
RESOURCES THAT CAN BE PURCHASED
Trust Alliance: a growing group of vetted global professionals working to elevate trust and share resources, now in its 6th year.
Workshops, speaking engagements, etc. Our Alliance members are available to meet just about any trust need an organization might have. No reason to search the internet for the "right" person to fill the gap. Just contact us.
Trust in a Box: A "do it yourself" solution for professionals and organizations interested in elevating trust, ethics and integrity.
Data Licensing: Our proprietary FACTS(R) Framework is the longest ongoing research study of the trustworthiness of America's 2000 largest US public companies, now in its 8th year. Our data is available for licensing on a case-by-case basis.
Books: An entire Reading Room dedicated to organizational trust.
Top Thought Leaders Program: Nominations are now open for the 9th annual Top Thought Leaders in Trust.
If you lead an organization, serve on a Board or in any management capacity or work with others, and you continue to ignore trust as a hard asset, you are losing out to your competitors. Trust works. Give it a try.
Barbara Brooks Kimmel is the CEO and Cofounder of Trust Across America-Trust Around the World whose mission is to help organizations build trust. A former consultant to McKinsey & Co., she also runs the world's largest global Trust Alliance and is the editor of the award- winning TRUST INC. book series. In 2017 she was named a Fellow of the Governance & Accountability Institute, and in 2012 she was recognized as one of "25 Women who are Changing the World" by Good Business International. She holds a BA in International Affairs from Lafayette College and an MBA from Baruch at the City University of NY.
Contact me for more information.
Copyright (C) 2018, Next Decade, Inc.