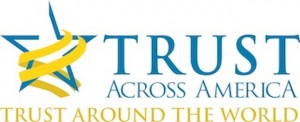 Do trustworthy CEOs share similar profiles?
What about their untrustworthy counterparts?
Since 2010, Trust Across America™ (TAA) has been conducting an annual review to identify The Most Trustworthy Public Companies in America. Over 2000 companies are independently screened through our custom FIDES™ software using our proprietary Framework called FACTS®, ranking the trustworthiness of companies on five primary indicators of trustworthiness: Financial stability, Accounting conservativeness, Corporate governance, Transparency and Sustainability. No internal assessments or surveys are completed and companies do not know they are being analyzed.
This past April we released our fifth year of findings and named our Top Ten Most Trustworthy Public Companies (over 5 years.)
What do the CEOs of these "Top 10" companies have in common and how do their profiles compare to the "least trustworthy" in our model?
Most Trustworthy Profile:
All are men
All were born between 1950 and 1960
All were promoted from within to CEO
Seven of the ten have been the CEO for at least five years (well above the national average CEO tenure)
Undergraduate education is diverse and less than half have MBAs
We then took one additional step, reviewing the profiles of the CEOs from the ten LEAST trustworthy companies (with market capitalization over $10 billion) and here's what we found:
Least Trustworthy Profiles:
All are men
Born between 1934 and 1967
Five of the ten were promoted from within (three of the five became CEO through mergers)
Six of the ten have been CEO for over five years
Undergraduate education is diverse and one has no college degree
What conclusions, if any, should be drawn from this small study?
Barbara Brooks Kimmel has been the Executive Director of Trust Across America-Trust Around the World  since its founding in 2008. The program's mission is simply to provide tools and assistance to organizations interested in building trust. Barbara runs the world's largest organizational trust membership program. She is also the editor of the award winning TRUST INC. book series and the Executive Editor of TRUST! Magazine. In 2012 Barbara was named "One of 25 Women Changing the World" by Good Business International.
Barbara is also an award-winning communications executive and former consultant to McKinsey who has run her own firm, Next Decade, Inc., that has been unraveling and simplifying complex subjects for over twenty years. She holds a BA in International Affairs from Lafayette College and an MBA in Marketing from Baruch (City University of NY).