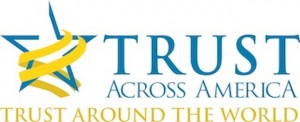 It's Week #17 of 2016. This latest article is part of a series drawn from our 3rd annual 2016 Trust Poster….now hanging in hundreds of offices around the world. Get yours today!
52 Ideas That You Can Implement to Build Trust
Nadine Hack a member of our Trust Alliance  and 2016 Lifetime Achievement Award Winner offers a simple suggestion:
Be inclusive in your decision making
In our ever-more connected world, growing exponentially more so because of social media, people expect to be engaged rather than dictated to. This always has been true: it's just more obvious now.
So, be open to the possibility you can learn as much from those you lead as they might learn from you. Involve them as early as possible in analyzing information to make truly informed decisions.
Territorial ego-based leadership is the opposite: keep strategies and activities secret, maintain control by keeping everyone else "in their place" and share as little as possible.
Yet, leaders who recognize that even the new intern can have a breakthrough "genius insight" are genuinely secure and do not have to dominate. They also get the best out of their teams.
Thank you Nadine. We hope our readers heed this week's advice.
Barbara Brooks Kimmel is the CEO and Cofounder of Trust Across America-Trust Around the World whose mission is to help organizations build trust. Now in its seventh year, the program's proprietary FACTS® Framework ranks and measures the trustworthiness of over 2000 US public companies on five quantitative indicators of trustworthy business behavior. Barbara is also the editor of the award winning TRUST INC. book series and the Executive Editor of TRUST! Magazine.
Copyright 2016, Next Decade, Inc.