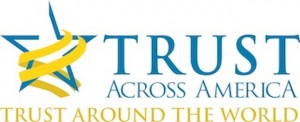 Trust Across America's focus has always been on finding and highlighting the "best in breed" corporate citizens while leaving the worst for the scrutiny of others. But today is only Wednesday and my inbox is swamped with so many trust busting stories that even Lucy's head is spinning. Here we go:
Wells Fargo is clawing back compensation to rebuild trust, or are they?
Volkswagen has found the "secret" to  rebuilding trust…. are they kidding?
Barclay's CEO has his own strategy for trust, but it's certainly not the "building" kind. This is the same CEO who not so long ago said "I do believe that trust is returning to our institution. But we will never rest, we are never done. We have to focus on building that trust every day."
A  bunch of "fake activist" companies, outraged over the purported trust violations of Bill O'Reilly, pull their advertising, or do they? Thanks Jim!
And let's not forget United, except this isn't about customer brutality, and maybe not even about trust! It's just ironic.
This week, instead of watching sitcoms, I've taken to reading the news. As an organizational trust researcher and communicator, I'm finding it not only highly educational but also wildly entertaining.
As I've said for many years, the ongoing trust crisis will certainly not abate until untrustworthy leaders sail off into the sunset or recognize the error of their ways and start advocating for change.
Barbara Brooks Kimmel is the CEO and Cofounder of Trust Across America-Trust Around the World whose mission is to help organizations build trust. Barbara also runs the world's largest global Trust Alliance, is the editor of the award winning TRUST INC. book series and a Managing Member at FACTS® Asset Management, a NJ registered investment advisor. In 2012 she was named one of "25 Women who are Changing the World" by Good Business International, and in 2017 she became a Fellow of the Governance & Accountability Institute. Barbara holds a BA in International Affairs and an MBA.
Copyright (c) 2017, Next Decade, Inc.