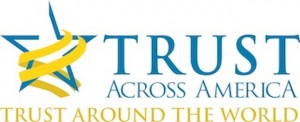 If you lead an organization and want to build trust into its DNA, it all begins (and ends) with you. How many of these boxes can you check?
Start with an assessment of yourself:
Are you trustworthy?
Do you possess integrity, character and values?
Do you share those values with your family?
Do you instill them in your children?
Do you take your personal values to work?
Perform an organizational trust audit:
Consider your internal stakeholders:
Do you discuss trust daily?
Do you encourage feedback?
Are you working to break down silos and create unified strategies?
Do you share a consistent vision?
Do you model openness and vulnerability?
Do you use transparent decision-making?
Do you ask for input?
Do you share every "Wow" moment in your organization?
Do you communicate well?
Consider your external stakeholders:
Have you shared your vision and values in building a trustworthy organization?
Have you identified the outcome(s) you are seeking?
Have you defined your intentions for each of our stakeholder groups?
Have you made promises that you will keep?
Have you determined the steps you will take to fulfill these promises?
Almost every organizational challenge can be traced back to low trust… and a leader who has not checked the boxes.
Barbara Brooks Kimmel is the CEO and Cofounder of Trust Across America-Trust Around the World whose mission is to help organizations build trust. Barbara also runs the world's largest global Trust Alliance, is the editor of the award winning TRUST INC. book series and a Managing Member at FACTS® Asset Management, a NJ registered investment advisor. In 2012 she was named one of "25 Women who are Changing the World" by Good Business International, and in 2017 she became a Fellow of the Governance & Accountability Institute. Barbara holds a BA in International Affairs and an MBA.
Copyright (c) 2017, Next Decade, Inc.