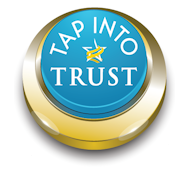 Have you noticed that as LinkedIn has grown, the user focus has shifted away from relationship building to individual advertising? I don't know about you, but sometimes I feel like I am rowing alone in a sea, and it's not the Caribbean.
As a LinkedIn user, have you considered the benefits of first building trust with your connections?  After all, LinkedIn is a great way to develop relationships that may lead to new business or collaborative opportunities down the road. Under the theory that trust is built over time and in incremental steps consider adjusting your LinkedIn "strategy" using some of the following trust-building suggestions.
Connecting
Before accepting a new connection, take a minute to view the profile of the party who is reaching out. If there are no clear personal or professional synergies, consider passing on the invitation.
When accepting, send a note indicating that you have spent a few minutes reviewing the profile to get to know the new connection. Ask whether the other party had a specific reason for wanting to connect.
When sending an invitation, add a personal note showing some level of interest in the work of the potential new relationship.
Posting
First consider the usefulness to your connections of your next post. Are you posting for your benefit or for theirs? Cheap advertising isn't always the best marketing strategy! (Same goes for posting to groups.)
Drop the insincere platitudes like "honored and humbled" when trumpting your minor successes. Save those words for the appropriate occasion.
Review your past posts. How many times do you use the words "Me, my, I?"
Don't forget to acknowledge every comment on your post and also to reciprocate.
Networking
Periodically review connections and send a note to those who you might want to get to know better.
If you haven't had any interaction beyond the first connection, never send a private message that is nothing more than an advertisement (usually an invitation to attend an event that involves paying a fee.)
Do not use your connections to create a mailing list. Ask for permission first.
What other suggestions do you have for building trust on LinkedIn? Please leave your comments below.
Barbara Brooks Kimmel is the CEO and Cofounder of Trust Across America-Trust Around the World whose mission is to help organizations build trust. A former consultant to McKinsey & Company, she also runs the world's largest global Trust Alliance and is the editor of the award- winning TRUST INC. book series. In 2017 she was named a Fellow of the Governance & Accountability Institute, and in 2012 she was recognized as one of "25 Women who are Changing the World" by Good Business International. She holds a BA in International Affairs from Lafayette College and an MBA from Baruch at the City University of NY.
For more information visit our website at www.trustacrossamerica.com
You may also join our Constant Contact mailing list for updates on our progress.
Copyright (c) 2018, Next Decade, Inc.